Halsey Opens Up About On-Stage Miscarriage And Freezing Her Eggs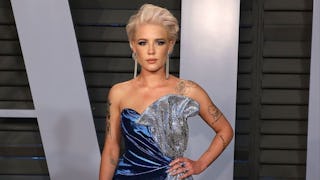 Image via Taylor Hill/FilmMagic/GettyImages
Singer Halsey had a miscarriage while performing
Ashley Nicolette Frangipane, aka Halsey, is only 23, but she's already experienced some difficult situations. The singer opened up about the miscarriage she had while performing, dealing with the disease endometriosis, and her decision to freeze her eggs now.
"Before I could really figure out what [the pregnancy] meant to me and what that meant for my future, for my career, for my life, for my relationship, the next thing I knew I was on stage miscarrying in the middle of my concert," the singer said during an appearance on The Doctors. "And the sensation of looking a couple hundred teenagers in the face while you're bleeding through your clothes and still having to do the show, and realizing in that moment that I never want to make that choice ever again of doing what I love or not being able to because of this disease."
The singer was part of a panel for the show that included actress Kate Bond and gynecologists Nita Landry, M.D., and Thais Aliabadi, M.D. She shared her experiences with endometriosis, which affects about 11% of women. The main characteristic of the condition is that the uterine tissue lining grows outside of the uterus, which is insanely painful and can cause additional issues with periods and fertility. The singer has spoken out about endometriosis to raise awareness about the condition, which is still relatively unknown and often ignored by doctors. "The thing with endometriosis is [that] doctors can tend to minimize the female experience when it comes to dealing with it," Halsey shared. "My whole life, my mother had always told me, 'Women in our family just have really bad periods.' It was just something she thought she was cursed to deal with and I was cursed to deal with, and that was just a part of my life."
The singer also shared how awful the disease can make women feel. "Reproductive illness is so frustrating because it can really make you feel like less of a woman," she explained. "There's a lot of times when you're sitting at home and you just feel so terrible about yourself. You're sick, you don't feel sexy, you don't feel proud, you don't feel like there's much hope." Halsey said the miscarriage coupled with the endometriosis diagnosis led her to freeze her eggs. Of, course not everyone respected her decision. She said, "When I tell people that, they're like, '"You're 23, why do you need to do that? Why do you need to freeze your eggs?'" But the decisions women make about their health care should only matter to them and their doctor. We each know what's the best path for us.
"Doing ovarian reserve is important for me, because I'm fortunate enough to have that as an option, and I need to be aggressive about protecting my fertility [and] about protecting myself," Halsey said. "Taking these measures to make sure that I get to have a hopefully bright future and achieve the things that I want to achieve by doing the ovarian reserve is really important."