Halsey Uses New Album Cover To Normalize 'Bodies And Breastfeeding'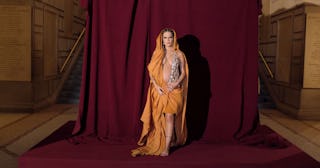 Halsey/Youtube
Halsey shares new album art aimed at "eradicating the social stigma around bodies & breastfeeding"
On Wednesday July 7, singer Halsey, who is pregnant with her first child, revealed her new album cover and the date for the album's release — August 27. She chose to share the cover for "If I Can't Have Love, I Want Power" at The Met Fifth Avenue in New York City and when I tell you she looks stunning while doing it I'm only barely doing her justice.
Just. Look.
"This album is a concept album about the joys and horrors of pregnancy and childbirth," she wrote in an Instagram post revealing the album's cover image. "It was very important to me that the cover art conveyed the sentiment of my journey over the past few months. The dichotomy of the Madonna and the Whore. The idea that me as a sexual being and my body as a vessel and gift to my child are two concepts that can co-exist peacefully and powerfully. My body has belonged to the world in many different ways the past few years, and this image is my means of reclaiming my autonomy and establishing my pride and strength as a life force for my human being."
According to Variety, Halsey wrote the songs on the album herself and recorded them with Trent Reznor and Atticus Ross of Nine Inch Nails.
"This cover image celebrates pregnant and postpartum bodies as something beautiful, to be admired. We have a long way to go with eradicating the social stigma around bodies & breastfeeding. I hope this can be a step in the right direction!"
Halsey announced her pregnancy earlier this year calling the baby her "rainbow," which means a child born after a previous loss.
In 2018, she opened up about her miscarriage that happened while on-stage performing. "Before I could really figure out what [the pregnancy] meant to me and what that meant for my future, for my career, for my life, for my relationship, the next thing I knew I was on stage miscarrying in the middle of my concert," the singer said during an appearance on The Doctors. "And the sensation of looking a couple hundred teenagers in the face while you're bleeding through your clothes and still having to do the show, and realizing in that moment that I never want to make that choice ever again of doing what I love or not being able to because of this disease."
It looks like Halsey is continuing to use her huge platform to encourage the normalization of breastfeeding and pregnant/postpartum bodies and we're here for it.