Halsey Says Her Pregnancy Was '100% Planned' Amid Internet 'Judgement'
by Madison Vanderberg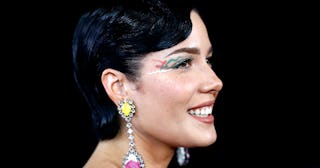 Ryan Pierse/Getty Images
Halsey shuts down discourse around her pregnancy announcement
The singer Halsey announced in January that she was expecting her first child, her rainbow baby, with her boyfriend Alev Aydin. The announcement, like most celebrity baby announcements, came as a surprise, which isn't all that shocking, because one day you assume a celebrity isn't pregnant and then suddenly you find out they are (i.e. the "surprise") but apparently, some have been speculating over the 26-year-old's pregnancy announcement or insinuating that it was unplanned, causing her to take to Instagram Stories to issue a statement that she "tried very hard" to have this child.
It's sad and frustrating that Halsey even had to "set the record straight" about her pregnancy and whether a pregnancy is planned or not doesn't matter to literally anyone but the person who is pregnant, but I digress. Although it's unclear what exactly was being said about Halsey's pregnancy or who she was responding to, specifically, she released the following statement on March 2, 2021.
"Why is it ok to speculate and pass judgement about fertility and conception?" she wrote on Instagram Stories. "My pregnancy was 100% planned, and I tried very hard for this bb. But I would be just as happy even if it were another way."
People on the internet really are rude and intrusive about everyone's — especially pregnant women and mom's — lives. I mean, we have a phrase — "mommy shaming" — for a reason. And if anyone need speculate about anyone's pregnant (don't though), why do it about Halsey, who has been nothing but an open book.
Her song "More" is about her desire to have a child and in 2020 she opened up to The Guardian after experiencing a miscarriage five years ago.
"It's the most inadequate I've ever felt," she said of the pregnancy loss. "Here I am achieving this out-of-control life, and I can't do the one thing I'm biologically put on this earth to do. Then I have to go onstage and be this sex symbol of femininity and empowerment? It is demoralising."
Halsey — who has endometriosis — told Rolling Stone what it was like when she miscarried just hours before a performance, saying she had to put on an adult diaper and still had to go on-stage and perform.
"It's the angriest performance that I've ever done in my life," she said. "That was the moment of my life where I thought to myself, 'I don't feel like a fucking human being anymore.'"
The singer also took to Twitter in January, writing simply, "my rainbow." A "rainbow" baby is a child born after a previous pregnancy loss.
Since then, Halsey has been sharing joyful updates about her pregnancy journey, writing in a recent Instagram post that this experience has changed how she feels about gender.
"I thought pregnancy would give me very strong, binary feelings about 'womanhood' but truly it has leveled my perception of gender entirely," Halsey wrote. "My sensitivity to my body has made me hyper aware of my humanness and that's all. Doing a remarkable thing. And it's grand. I hope the feeling lasts."
Sending love to Halsey and a serious "leave her alone!" to the internet trolls who want to bring her down during this joyful time.