Halsey Slams Victoria's Secret After Her Fashion Show Performance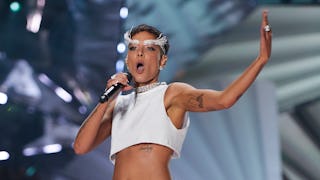 Image via Timur Emek/FilmMagic
Halsey is slamming Victoria's Secret for comments that were made after she recorded her VS Fashion Show performance
Victoria's Secret just can't catch a break (nor should they). The lingerie brand's now-infamous yearly fashion show aired last night amid continuing controversy over comments about the show's complete lack of inclusivity. Halsey, one of the musical guests who performed, is now calling out Victoria's Secret, the fashion show, and even her own performance.
In a message posted to Twitter, Halsey explained that she recorded her musical performance for the show before VS Chief Marketing Officer Ed Razek dropped a bunch of bullshit about how plus-size and trans women don't fit the male-centric "fantasy" the VS Fashion Show is trying to create.
"I have adored the Victoria's Secret Fashion Show since I was young. Performing this year alongside other amazing artists and hardworking models/friends was supposed to be the best night of my year," Halsey wrote in her statement. "However, after I filmed the performance, some comments were made regarding the show that I simply cannot ignore."
She continued, "As a member of the LGBTQ+ community, I have no tolerance for a lack of inclusivity. Especially not one motivated by stereotype."
Halsey went on to direct her followers to GLSEN, a charity that works to make school environments safe and inclusive for all kids with education about sexual orientation, gender identity and gender expression, and support for LGBT youth. In her statement, Halsey also announced she had made a "sizeable" donation to GLSEN.
She concluded, "If you are a trans person reading this, and these comments have made you feel alienated or invalidated, please know that you have allies. We stand in solidarity, and complete and total acceptance is the only 'fantasy' that I support."
That last line is in reference to Razek's comments, "Shouldn't you have transsexuals in the show? No. No, I don't think we should. Well, why not? Because the show is a fantasy. It's a 42-minute entertainment special. That's what it is."
Halsey's statement resulted in a lot of support online.
https://twitter.com/jetpack/status/1069488480353284096
But there was just as much criticism for the way she waited until the show had aired to make a statement.
https://twitter.com/jetpack/status/1069626501308563462
Halsey isn't the only one to drag Victoria's Secret since Razek's comments were made public. ThirdLove, an inclusive competitor that makes hella comfy bras, also called out the flailing brand. And social media backlash has been harsh.
Hopefully all of this is enough to get Victoria's Secret to consider the changes it needs to make in order to succeed in 2018 and beyond. Not casting aside entire populations of people might be a good place to start.
This article was originally published on