The 'Hamilton' Cast Is Reuniting To Fundraise For Joe Biden
by Madison Vanderberg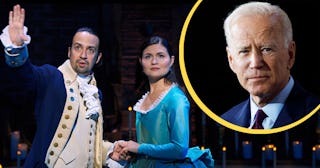 Tom Brenner/Getty and Disney+
Lin-Manuel Miranda and Hamilton cast are reuniting for Joe Biden fundraiser on Friday
First Hamilton saved us from pandemic boredom by dropping a year early on Disney Plus and now, Lin-Manuel Miranda and gang are like, You want us to save the election too? Cool. On it. The majority of the original Hamilton cast is getting together this Friday for a "special grassroots fundraiser" for the Joe Biden campaign and where do I sign up?
Lin-Manuel Miranda, Daveed Diggs, Renée Elise Goldsberry, Jonathan Groff, Christopher Jackson, Javier Muñoz, Leslie Odom, Jr., Okieriete Onaodowa, Phillipa Soo, and more members of the original cast will team up on Friday, October 16th at 9:00 p.m. ET for a cast Q&A (moderated by director Thomas Kail) followed by a "special performance." It's noted that Leslie Odom, Jr. and Renée Elise Goldsberry will host the event.
To join in and watch the "Hamilton Town Hall" on Friday, you just have to donate to the Biden Victory Fund. How much you say? Any amount! The Biden campaign says most people donate 25 bucks but you can input any amount and then gather your family around the laptop to watch the Hamilton gang do their thing while resting in the knowledge that you are helping Joe and Kamala save our democracy. It's truly a win-win.
Also, if you like Hamilton but don't want to support the Biden campaign and you're reading this and saying "Why do celebrities have to be sooo political," uhmmm, have you SEEN Hamilton? Politics is like, its whole deal? Also, just last month, Miranda re-wrote the lyrics to a number of Hamilton songs for Michelle Obama's "When We all Vote" campaign, and Miranda somehow managed to rework the lyrics to illustrate how Donald Trump won the 2016 election and to encourage young people and the other undecided voters who sat out in 2016 to actually vote this time.
"Our nation is asking to hear your voice because November is coming and so is your choice," Miranda sings in reworked lyrics to the Hamilton song "The Election of 1800." "Now, I've said this before and it matters a lot. Do not throw away your shot. I know it takes time. It's a sacrifice…If you're hearing my voice you know what to do. My future depends on this. Yours does too."
As for Friday's musical fete, an email sent to Biden supporters (via The Hill) stated that "the Broadway cast of Hamilton is not throwing away their shot at helping Joe, Kamala, and Democrats all the way down the ballot win…It would mean a lot if you were in the (virtual) room where the reunion happens." You gotta love the wordplay.
To join the Hamilton Town Hall, you can find more information here.
This article was originally published on