John Krasinski Reunites 'Hamilton' Cast To Surprise 9-Year-Old Fan
by Christina Marfice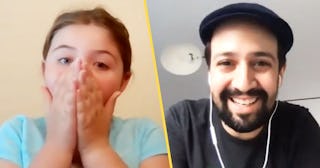 Hamilton/Facebook
Is this a Hamilton fan's greatest dream or what?
While many of us remain locked in quarantine, maintaining our social distancing to help slow the spread of coronavirus, there are a few things that are making all the time spent stuck at home a little more bearable. One of them is John Krasinski's new online show, "Some Good News," where he highlights all the good things that are still happening in the world, but that we might not hear about because of all the scary things dominating the headlines right now. On this week's show, his special guest was a young girl named Aubrey, who is a huge fan of the Broadway show Hamilton, but had to cancel her trip to see the show this week because of the virus.
Aubrey, who said that on a scale from one to 10, she loves Hamilton "a million," got her first surprise from Krasinski, who said that once this whole pandemic thing is over, he's going to fly her and her mom to New York to see the show on its original stage. But that wasn't all he had up his sleeve for this little fan.
All of a sudden someone new joined the call. We bet you can guess who it was: None other than Hamilton star and creator Lin-Manuel Miranda. We think Aubrey's face at that moment says it all.
And after a few minutes of chatting with her hero, Aubrey got yet another awesome surprise. As Krasinski and Miranda were talking, she started hearing the Zoom sound effect that signals a new person joining the call. "There's a bunch of new people joining," she nervously told the host. But then music started to play — her favorite song from Hamilton — and a lot of voices started to sing. All the new people joining the call were from the show's original Broadway cast, and they hosted a Zoom singalong for this little fan — and Ham fans all over the world.
If you want to skip straight to the adorable moment (even though all of Krasinski's show is worth watching), it starts around 7:45. Or you can check out just the singalong in this clip.
In times like these, it's like a salve for our hearts and souls to see a moment as magical as this one come together. After things go back to normal, we hope Aubrey and her mom have the best time seeing Hamilton. And in the meantime, she now has one very special memory with the cast that she won't ever forget.