'Hamilton' Creator Slams Trump In Epic Tweetstorm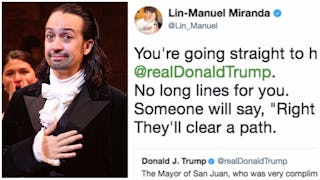 Image via BRUCE GLIKAS/GETTY IMAGES/TWITTER
Lin-Manuel Miranda responds after Trump criticizes Puerto Rico
Lin-Manuel Miranda has a message for the president after Trump spent the morning criticizing the mayor of San Juan and other leaders in Puerto Rico. That message? Right this way, sir, for the express elevator to hell.
Miranda, who has family in Puerto Rico, responded angrily to a series of tweets posted by the president early this morning in which he called Mayor Carmen Yulín Cruz "nasty" and said that Puerto Rican authorities "want everything done for them."
Hold up — you mean the Puerto Rico that has been completely leveled, whose people are dying, and that is suffering because bureaucratic red tape is preventing them from getting the help they need? And the mayor of San Juan who has been working non-stop since the storm, walking through chest-high water in waders looking for people, and is sleeping in a shelter with her family because her home was destroyed? That Puerto Rico? That mayor of San Juan?
Miranda, who has been raising funds for the island through the Hispanic Federation, was not having it. He. Was. Not. Having. It.
Yes, while the people of Puerto Rico are starving, drinking water from creeks, have no electricity, and are struggling to get basic medical help, the president is essentially calling them "ungrateful" while he strolls around a golf course in New Jersey that bears his name.
It is sickening that this president is tweeting insults to the people he should be bending over backward to help. But as has been made clear over and over again, the president is unable to tolerate any kind of criticism. Instead of saying, "I'm sorry," or, "I'm trying," or, "I'll work on that," he says, in the manner of a three-year-old, "No, you are."
Phrases like, "not able to get their workers to help" and "want everything to be done for them" are direct references to racist stereotypes. He knows that his base will nod their heads in agreement while they hang their confederate flags next to their American flags, and that's all he cares about.
Consider this: did Trump show this kind of contempt for the people of Florida and Texas? No, he didn't. And did we mention that Puerto Ricans can't vote for president? They can't help him politically, so they're screwed.
At least we have people with enormous platforms like Miranda who are not afraid to call out the president, and then redirect our attention to what's important. As Miranda put it in one of his last tweets this morning: