Hamiltion Cast Dedicates 'Dear Theodosia' To Our Kids On Election Day
by Madison Vanderberg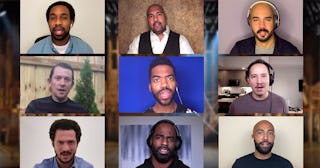 Hamilton/Facebook
Hamilton cast records emotional rendition of "Dear Theodosia" on election day
Today is election day and we're voting for a lot more than which man should reside in the White House for the next four to eight years. Today we're voting on the future of our democracy and who better to illustrate that truth through art than the cast of Hamilton. Several of the men who played Aaron Burr and Alexander Hamilton in various touring versions of the show got together to film an especially moving version of "Dear Theodosia," a song about two fathers fighting to create a better world for the children. I don't know if it's election day anxiety or the fact that nine men with the most beautiful voices I've ever heard just sang directly to me through their Zoom screens, but woof, I am straight up weeping right now.
In the show, Aaron Burr and Alexander Hamilton sing "Dear Theodosia" to their young children, Theodosia and Philip, and promise to "fight for you" and "make it right for you" and do everything they can to shape the nation and make the world better for their children.
"Today, we vote for the next generation as well as our own. You will come of age with our young nation. We WILL make it right for you. #Vote for our future," the cast of Hamilton wrote on social media, referencing lyrics from the song.
They capped off the performance with a call to visit IWillVote.com (which is a great resource to find your nearest polling place if you're on your way to vote today), and honestly, the Hamilton cast has been working overtime to fundraise for the Biden campaign and urge their fans to vote, vote, vote. Because really, if you like Hamilton, it means you actually like democracy too, so if you think that you're not "into politics," but you love to belt out "The Room Where It Happens," I have a secret for you… you actually are into politics.
As for the "Dear Theodosia" performance, there's a reference in the song to watching one's kids grow up and "blow us all away" with their future achievements. From the Parkland activists to the grassroots efforts happening on TikTok, we're already seeing how Gen Z is stepping into their power to help shape the future of this nation — they're already blowing us all away, but it's our job to vote so that they can continue to do so. Happy election day!