This Girl Gave Her Hamster A Bed And Now Everything In Life Is Better
by Meredith Bland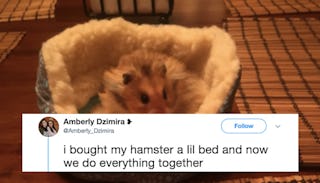 Image via Twitter/Amberly Dzimira
Look at these pics and never be sad again
Some days are really, really hard, aren't they? There are days everything just seems bad. But then, there are also days when you log on to Twitter and see pictures of a wee hamster in a wee bed, and suddenly everything is okay again. So sit down, grab a soft blanket, and prepare to be comforted by all the cuteness there ever was.
On Monday, Amberly Dzimira posted some photos on Twitter of her hamster, Chip, enjoying time in his brand-new bed. Apparently, there was a hamster-bed-sized hole in everyone's hearts, because that tweet has now been liked over 386,000 times. Here's why:
Let it be known that from here on out, the word "cute" has been replaced by "Chip in his hamster bed." So if you're going to compliment your friend's shoes, you now say, "Sara, those shoes are so Chip in his hamster bed!" She'll get it. And she'll thank you.
Dzimira wrote under the photos, "I bought my hamster a lil bed and now we do everything together." And why wouldn't you?! Here are just a few of the things that my new favorite hamster and his owner do together:
They study together.
They watch hamster-appropriate movies like The Secret Life of Pets.
And they enjoy healthy snacks together.
Obviously, Chip is not your average hamster. It's not every hamster who would just hang out in his bed outside of his cage with his owner. Most of them would bite you, poop on your bed, and then run for the door. Dzimira tells Scary Mommy how she knew this would work with Chip: "I bought the bed at PetSmart because Chip always likes to chill with me outside his cage," she says. "He loves to cuddle and spend time with people so he's not lonely. He uses it every day."
My cuteness meter just popped. It hurts, but it's a good kind of hurt.
We weren't the only ones who lost their hearts to Chip and his bed:
https://twitter.com/jetpack/status/958585837423349760
Dzimira added another post later with more pictures of Chip and the answers to some questions from his fan base.
And in case you were wondering, (because I have been up all night worrying about it myself) she says Chip loves us, too.
We love you, Chip!