I'm A Recovered Hand-Me-Down Snob (I See The Sentiment In The Things We Pass Along Now)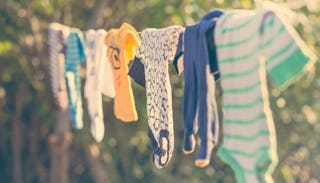 mpaniti / Shutterstock
Footsteps on creaky floorboards wake me. I hear little girl feet race through the house, chasing the darkness between her nightlight and ours. She runs, frightened of what may reside in the shadows. I lift the covers and my daughter clamors in with rumpled hair, sleepy smells, and sighs of relief.
The memory rushes back as I stare at the photograph of her favorite jammies, long since retired. I smell her apple-scented shampoo and feel her body curve next to mine for an early morning snuggle. Seeing a picture of favorite pajamas reminds me of it all.
They arrived in an overstuffed, slate gray Rubbermaid bin from my sister. I remember my daughters sifting through the contents, tossing aside their cousin's holiday dresses and athletic gear in favor of the soft pajamas. Like burnished glass from the ocean floor, they had a smoothness only wear creates.
Both of our daughters adored these jammies, and our youngest wore them 'til they wore out. Thread-bare cuffs and holey elbows ensured we were the end of the pass-a-long line. They'd dutifully served four little girls in two different homes before joining ours. I couldn't just toss them. So I snapped a commemorative photo in tribute.
Well done, jammies. Your service and dedication were exemplary.
I'm a recovering hand-me-down snob. Five older sisters meant my childhood wardrobe was entirely pre-owned. Even my undies had that "broken-in" quality. A new school outfit each fall was usually the only item hanging in my closet with a tag attached. I despised pass-a-long clothes.
"When I grow up," I told myself, "my kids will never wear hand-me-downs."
Uh-huh.
Now I'm the mom. I quickly learned pre-owned clothing save bazillions of dollars each year. And I also learned a secret: Sometimes well-worn equals well-loved.
A few weeks after delivering my first child, a neighbor knocked on my door. She held a casserole in one hand and a size 4T dress in the other. She offered both.
"It was my Emma's dress," she said, referring to her tween daughter. "I can't wait to see another little girl wearing it around the neighborhood. You have to promise me when it fits, you'll send her by."
I thought she was crazy. My newborn was still swaddled most of the time. Why would I need a preschool-sized dress decorated with giant ladybugs and fat black buttons? But that baby grew faster than I thought possible. I blinked and that dress fit, and every time it ran, skipped, and scootered past my neighbor's house, I saw my friend's joy. She'd passed along the love, and my daughter returned it by wearing the dress.
One hot summer afternoon, my father and I peered inside a large red trunk in his mothball scented attic. There, tucked between yellowed sheets of tissue, were my favorite childhood mittens. Colorful, embroidered flowers and vining ribbon stems adorned the white wool. Seeing them brought me back to the hard pews and droning sermons of Sunday mass, the only place I was permitted to wear them.
"Take them," my father encouraged. I did, and every time one of my daughters wore them, I felt full. Those mittens bridged my childhood to theirs.
I've come to understand handed-down love can't be replicated. Even though my girls have grown up and grown out of those treasures, special items, like those well-loved jammies, shake loose parenting memories. And it's why I collect some of my own favorites in Rubbermaid bins in the basement. They may only be items, but when measured by the heart, they are full of love. And I want to be ready to pass that along.