People Are VERY Satisfied With 'The Handmaid's Tale' Season Finale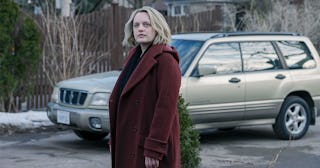 Sophie Giraud/Hulu
The internet's reaction GIFS for The Handmaid's Tale Season 4 finale are on point
The Handmaid's Tale's fourth season came to a very satisfying (albeit brutal) end on Wednesday, June 16, 2021, that finally gave viewers what they've been waiting four long seasons: some damn revenge. After watching women be raped, tortured, and killed for four whole years, our hero June finally got to have the last, and violent, word.
But first, let's catch up on how The Handmaid's Tale's fourth season ended. Spoilers abound, just FYI.
Season 4 saw June finally make it to Canada after suffering for five years in Gilead where she was held captive, raped, and brutalized. Unfortunately, all that freedom only brought her some PTSD and a severed relationship with her husband Luke.
Struggling to find any sense of joy in Canada, because you know, of the five years of servitude and sexual abuse, June learns that The Waterfords are in Canadian custody and about to stand trial for their many abuses. To assist, June gives a heartbreaking and moving testimony, detailing being raped for years by Fred.
Then, to June's horror, she learns that the Canadian government has granted immunity to The Waterfords in exchange for their intel about Gilead. Fred is shortly going to leave Canadian prison as a free man. June is, naturally, infuriated and told by basically everyone, including her husband, to just "move on," like that's a thing she can do. Then, June, being the badass that she is, organizes an agreement with the Canadian intelligence and her contacts back in Gilead over Fred's fate.
With the help of Commander Lawrence and June's lover Nick, Gilead frees 22 women in exchange for Fred's life. But sending Fred back to Gilead to stand trial isn't enough for June, who has demonstrated to us throughout Season 4 that she is 1000% out for blood.
So, June and Nick somehow pull off a caper that involves sending Fred out into "no man's land" where he is confronted in the woods by June and a small army of other women refugees from Gilead, who attack Fred, mauling him to death.
Near the end of the episode, still covered in Fred's blood, June cradles her daughter Nichole and seemingly says goodbye to her husband as she plots her next chapter, whatever that may be? A revenge tour of Gilead? Becoming the angel of death? It's anyone's guess.
The final shot of the series is Fred's headless body hanging from a wall, next to the inscription, "Nolite te Bastardes Carborundorum," aka "don't let the bastards grind you down."
Regardless… after four long years of being subjected to female torture as entertainment (why do we watch this? Seriously, I'm asking for myself), the internet finally got the catharsis it was longing for, and damn, it appears that it is possible to be both elated and traumatized at once.
The show has already been renewed for Season 5. I can't even imagine what OMFG moments they have left in store for us.