'Handmaid's Tale' Stars Speak Out Against Abortion Bans In Chilling PSA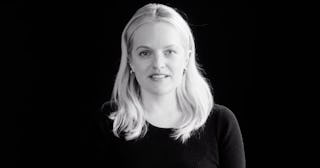 Harper's Bazaar
The cast of The Handmaid's Tale is very concerned we are actually turning into Gilead
With the barrage of policies and laws aiming to control women's bodies, it feels more and more like we're living a real-life version of the dystopian novel, The Handmaid's Tale. The cast of the TV adaptation is now speaking out against the recent abortion restrictions in several states with a grave warning about where we are headed as a country.
The cast of the uber-popular Hulu show teamed up with Harper's Bazaar and Planned Parenthood to create a chilling public service announcement about the risks involved with banning abortion. The clip features actors Elisabeth Moss, Samira Wiley, Ann Dowd, Madeline Brewer, Amanda Brugel, Max Minghella and Bradley Whitford.
"Gilead is closer to reality than you think. But it doesn't have to be," Harper's Bazaar shared along with the PSA as they promise to "support the fight for abortion care and denounce attacks on women's healthcare in America."
"Banning abortion is not going to stop abortion," Whitford says. "Banning abortion will only stop safe, legal abortions," adds Brewer. "This is not Gilead. This is not The Handmaid's Tale. This is not a book. This is not a TV show. This is America. This is our reality."
Many have made comparisons to the Trump administration's attempt to rule over a Handmaid-like society: Alabama lawmakers voted on a near-ban of abortions in the state; the Trump administration is allowing the defunding of Planned Parenthood — an institution many women rely on to provide birth control and healthcare, and banning the Centers for Disease Control and Prevention (CDC) from using the word "fetus" (as well as "transgender" and "science-based"), to name a few.
Georgia, Kentucky, Louisiana, Mississippi, and Ohio have also approved bans on abortions once a heartbeat in an embryo is detected, which can often happen before a woman even knows she's pregnant — before they are able to make a decision for themselves about their pregnancy.
"Access to reproductive care is under attack. Access to safe and legal abortion is a constitutional right," the actors say in the video. "One in five women in America have been to Planned Parenthood for health care. One in four women in America will have an abortion in their lifetime."
Saying you would never have an abortion comes from a place of privilege and assuming your views should be held by others is dangerous. Women's reproductive rights should be the decision of a woman, not legislated by our government. Period.
"This year alone, 303 bills restricting abortion care have been filed in 47 states," Harper's Bazaar reported. "Among those bills, 135 ban abortion in some or all circumstances. Start making a difference today by texting RESIST to 22422 to learn more about Planned Parenthood's fight to safeguard abortion access and preserve the quality of women's healthcare."