Hannah Gadsby Says 'F*ck You' To Netflix Exec Who Used Her As Inclusivity Example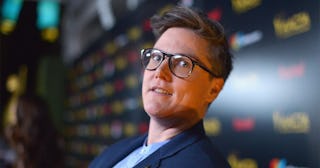 Charley Gallay/Getty
The comedian reacted to Netflix co-CEO Ted Sarandos' defense of the transphobic commentary of Dave Chapelle's The Closer
After a brief respite during which the streaming company celebrated the universal appeal of Squid Game, Netflix is right back where it started the month: embroiled in controversy. Comedian Hannah Gadsby posted a scalding rebuke after the co-CEO of Netflix, Ted Sarandos, cited her as proof that the organization values the LGBTQ community.
Yes, people of the internet… Netflix pulled the 'I have a Black friend' defense when people (rightly) criticized Dave Chapelle's final comedy show for the streamer.
In the special, Chapelle, no matter how you look at his brand of comedy, punches down. For those who are unfamiliar with the concept, comedy works best when you "punch up" or make jokes at people who have a bigger platform (or status) in society. Chapelle, for all his supposed edginess, was most decidedly punching down.
Chapelle has welcomed criticism of the special.
Sarandos has been working overtime to defend the streamer's choice to air the special. The Netflix executive sent a memo to his staff to defend Chappelle's work. The statement also said that Netflix was "working hard to ensure marginalized communities aren't defined by a single story."
"So we have Sex Education, Orange Is the New Black, Control Z, Hannah Gadsby, and Dave Chappelle all on Netflix. Key to this is increasing diversity on the content team itself," he listed as examples.
After Netflix's CEO referenced her, Gadsby posted a statement on Instagram in response.
"Hey Ted Sarandos! Just a quick note to let you know that I would prefer if you didn't drag my name into your mess. Now I have to deal with even more of the hate and anger that Dave Chappelle's fans like to unleash on me every time Dave gets 20 million dollars to process his emotionally stunted partial world view," she wrote.
"Fuck you and your amoral algorithm cult…. I do shits with more backbone than you," she wrote, stressing that her comments were a "joke" and that she couldn't cross any lines by saying so, as Sarandos already told the world "there isn't one."
Some Netflix employees are planning to participate in a virtual walkout on Wednesday, Oct. 20. According to The Verge, an internal organizing message about the walkout said that "Netflix has continually failed to show deep care in our mission to Entertain the World by repeatedly releasing content that harms the Trans community and continually failing to create content that represents and uplifts Trans content. We can and must do better!"