We're Poor, But We Can Still Be Happy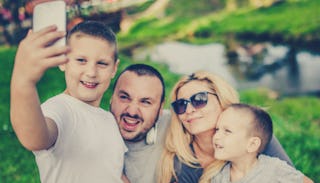 Milan Stojanovic / iStock
It's sunny out—one of those days when the sky seems bluer than usual and the sun seems to call my name. So, naturally, I decide to take my boys out. We'll go to the park, window shop at a thrift store, perhaps pick up smoothie samples from our favorite juice bar. Maybe when we get back, while my toddler naps, the preschooler and I will make crafts together or playfully argue over puzzle-piece placement. It will be a pleasant and perfect Saturday. It will be happy. We will be happy.
And, it won't cost a thing.
It can't cost a thing, really. We don't have money to spare. In the past, I thought that when I had kids we'd be cross-country traveling entrepreneurs. We'd be able to afford the best homeschooling curriculum and the kids would have fresh, crisp clothes and eco-painted wooden toys from my favorite retailers. To top it all off, we'd have the safest minivan and the priciest steel-framed car seats available firmly secured inside.
Somewhere along the line, reality set in.
After two sickly pregnancies with hyperemesis, two maternity leaves (which as a very small business owner meant extremely drastic changes in income), and finally a diagnosis of a major chronic illness which changes the landscape of our daily lives, we've ended up here—in the literal version of a figurative poor house, in a small apartment, with no car, working our way back into money's good graces.
We're not alone, not special, or even all that atypical. Many Americans are a health, job or marital crisis away from wondering how the bills will get paid.
Financial security is expected to be the natural result of hard work and persistent dedication to your chosen field. We feel confident that if we plan well and follow (most of) the rules we'll have no problem providing for our children, giving them all of what they need and some of what they want. Everything will be just fine.
But, when your plans are pulled out from under you—when you can't spend $35 on a medium box of Legos or $115 for softball sign-ups, can't buy the best car seat, and have to cut corners on your grocery bill—can you still have a happy family?
Yes, it is difficult and frustrating to not have a fat cushion of hundred-dollar bills to rest my head upon. It's scary at times and can even be isolating. Particularly for the working poor, a job creates the illusion of financial stability. You may find yourself hiding behind everyone else's assumption that you're doing well, holding in the truth and feeling ashamed.
Our circumstances are undesirable. But, our life is full of fortune.
Our happiness and contentment as a family are not tied up and held hostage in the black hole that is our bank account. Dreams of traveling the country and that new shoe smell may be on hold, but our joy has rarely missed a beat.
Being happy is not difficult. We all know that new iPads and trips to Disney are not the secret ingredients to raising well-adjusted children. As their mom, I know that my happiness is crucial to the well-being of my children. My kids don't always know or care about the things that I can't give them. They are perfectly happy with the things and experiences they already have.
When I choose happy, I lose my patience far less. We can sit at the kitchen table making our own cost-effective fun with arts and crafts without me going crazy over renegade glue and paint gone rogue. I'm not so wrapped up in what we're missing out on. That means I can use my energy to be productive enough to find activity scholarships and free educational resources.
My sunshine-filled Saturdays are joyous. They are radiant, full of big smiles from these small people I call mine, complete with hugs and kisses and laughs at the hilariously bad jokes of my 4-year-old. I have seen people give us warmly envious looks as we are intensely engulfed in our own happiness, protected from worry because we've chosen happiness instead. These people don't know my wallet is empty, but it is clear to them that we are a happy family.
This article was originally published on