Store Owner With 'No Gays Allowed' Sign Is Being Mercilessly Trolled On Yelp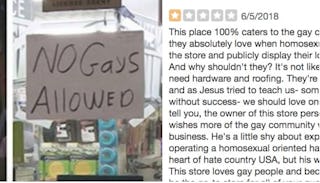 Image via New York Daily News/Yelp
This hardware store owner is learning a tough lesson about being openly homophobic in 2018
In the year 2018, you would think we know better than to openly discriminate against an entire community of humans. But apparently not. Amyx Hardware and Roofing Supplies, a hardware store in Tennessee, is under some serious fire after the internet caught wind that the owner hangs a sign at his store saying, "No gays allowed." Now, Jeff Amyx, the homophobic owner of the establishment, is being pummeled with negative Yelp reviews, many of which are actually hilarious.
Sorry, not sorry for laughing at an open homophobe getting an internet smackdown. It's 2018 and we don't play like that anymore.
When it got into the news that the store's owner had the awful sign, the backlash was swift and harsh — as it should be.
Basically, the internet is having a field day with leaving reviews that not only call Amyx out, but also torment him based on his backward beliefs. For example, his very straight Christian hardware store is now classified as a gay bar on Google maps.
Some took to Yelp with super reasonable questions.
Some are just here for the amazing trolling opportunity.
He's getting trolled really hard.
Also, some people shared pro-LGBT and pro-Pride photos and some just plan fun photos.
OK, actually a lot of people did that. It's nothing short of glorious to take a scroll through.
Among the hilarious trolling reviews are some actually sad and horrible stories about this store owner treating people like shit, so his business being shredded to bits on Yelp only seems fitting.
It just highlights how depressingly backward this is that this is making headlines during June, which is Pride Month. Amyx also seems to have been emboldened by a recent Supreme Court decision that sided with a Colorado baker who refused to make a cake for a same-sex wedding.
But if anything, the response from the public is heartening. It's disappointing this is happening still, but most of all, we're seeing people say, loud and clear, they won't tolerate this. Finally, people are showing, in no uncertain terms, that they aren't OK with this kind of bullshit in 2018. And it's about time.