Harriet Tubman $20 Moves Forward & People Aren't Even Hiding Their Racism Anymore
by Christina Marfice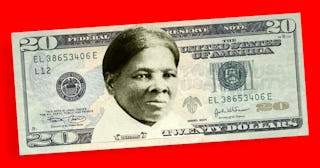 WOMENON20S.ORG
Racists are out in full force to share their hurt feelings over plans to move forward with $20 bills that feature Harriet Tubman
There have been plans in the works for some time to redesign the $20 bill so instead of featuring the face of Andrew Jackson, the racist president who designed the Trail of Tears, it features Harriet Tubman, a feminist icon and Black woman who helped countless slaves escape the South on the Underground Railroad. One of those people deserves to be a celebrated part of American history, and the other deserves to fade into the dusty pages of history books and forgotten. Can you guess which is which?
Unfortunately, we live in America, and there are a ton of racists here. And since Joe Biden announced his administration's plans to try to speed up the adoption of the $20 bills featuring Tubman, the racists aren't even trying to hide their snowflake feelings about it.
The decision to put Tubman on the $20 bill was first announced in 2019, but the Trump administration delayed the move until at least 2028. Biden's press secretary Jen Psaki told reporters at a Monday press briefing that The Treasury Department is "taking steps to resume efforts" toward getting the new bills made and released into circulation much sooner than that.
"It's important that our notes, our money — if people don't know what a note is — reflect the history and diversity of our country," Psaki said. "And Harriet Tubman's image gracing the new $20 note would certainly reflect that."
Psaki didn't have any specifics, since those need to come from the Department of the Treasury. But she said the administration is "exploring ways to speed up that effort," and you love to see it. Unless you're a racist, obviously, and plenty of them came out of the woodwork to whine online about this announcement.
"I'll take two 10's instead," one woman commented on a Facebook post about the news.
Another added, "What did harriet tubman do that she deserves to be on the 20 dollar bill nothing because we hate history according to the left [SIC]." I'm not one to judge, but you might want to redirect some of that anger toward the U.S. school system that clearly let you down, bud.
It's more than a little bit disheartening that so many people are against this move. Harriet Tubman is Black, and she's an American hero. To the people who can't reconcile those two ideas with one another, please learn to keep your racism to yourself.