Harry And Meghan's Kids May Not Be 'Royal' And The Reason Is Complicated AF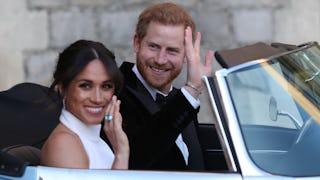 Image via Steve Parsons - WPA Pool/Getty Images
Harry and Meghan's kids would only have 'prince' or 'princess' titles on a couple of conditions
Unless you've been living under a rock, you know Prince Harry and Meghan Markle tied the knot over the weekend with a paltry 29 million people watching from around the world. And of course now that they're official, the only thing people will talk about is when are they going to have a baby already? Royal or not, we've all been there, Meghan.
Since there was certainly a buzz around what the newly-minted Duchess of Sussex would be called, imagine the fervor surrounding their future, possible, not yet conceived, (OMG LAY OFF, PEOPLE) baby will go by. And since the whole of the UK is likely doing some sort of British baby dance to get things moving (no pressure), we need to understand the stakes here.
Though many would assume the next (likely) royal tot would have a Prince or Princess title, that's actually not very likely. The reason is a bit complicated, so hold on to your tea and biscuits and allow me to explain.
According to LeicestershireLive, the titles of "prince," "princess," and "his/her royal highness" are reserved for children or grandchildren of the monarch. But apparently, titles can be either inherited by birth or granted by the monarch, such is the case for Princess Charlotte (but not Prince George because he's already the son of the monarch-to-be) because Prince William is next in line for the throne once Prince Charles takes over for his mother, Queen Elizabeth II (unless Charles abdicates, but let's not make this even more confusing).
In 2013, the queen issued a new Letters Patent, which basically said William and Kate's kids would be known as "prince" or "princess," overturning previous law. Queen Elizabeth can also do the same thing for Harry and Meghan's kids, should she so desire. Mind you, we're still talking about kids who have not yet been conceived. Perspective, people.
The other way the new bride and groom's offspring could receive a "prince" or "princess" title would be for Charles to assume the throne before Meghan gives birth (she's not pregnant, for the record). If that happens, their royal title would be intact because their grandfather would be the king.
Until that time (and maybe never because the Queen will live forever), their little angels would be referred to as "lord" or "lady."
Clear as mud?
Good, because I can't possibly explain things in any more detail than I just did and now I need a glass of wine, stat.
This article was originally published on