Harry's Inheritance From Diana Enabled His Royal Departure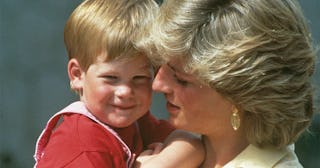 Tim Graham/Getty
Princess Diana was looking out for Harry and made sure he would be taken care of — no matter what
There were so many bombshell revelations during Prince Harry and Meghan Markle's much-anticipated interview with Oprah last night. Among them? The fact that the couple were "cut-off" financially from the Royal Family back in early 2020 when they first shared that they would be stepping away from life as senior working royals. Harry then revealed how they were able to finance their monumental move across the pond despite lack of support from the family — with money his late mother, Princess Diana, set aside for him.
"I've got what my mum left me and without that, we would not have been able to do this," Harry shared during last night's interview with Meghan by his side. He later said, "Touching back on what you asked about what my mum would think of this — I think she saw it coming… I certainly felt her presence throughout this whole process."
Twitter basically exploded in the wake of Harry's admission that his mother must've had a feeling that her son might later need a financial escape hatch of sorts, likely based on her own horrific situation with the Royal Family and the way Diana herself was treated all the way up until her untimely 1997 death. This was a momma bear looking out for her son, in life and beyond. Our hearts.
"My biggest concern was history repeating itself," Harry explained, discussing his mother's life with the Royal Family in relation to what Meghan was going through. "And what I was seeing was history repeating itself, but far more dangerous[ly] because you add race in, you add social media in."
"I think she would feel very angry with how this has panned out, and very sad," Harry said of how Diana would see the current state of things between her son and the Royal Family. "But, ultimately, all she'd ever want is for us to be happy."
Not a soul would deny that. Diana was an openly loving mother, often breaking with British royal parenting protocol in order to be a hands-on mom to her two beloved sons. Clearly, Harry has taken lessons he learned from his mom to heart and made sure to put his own family first, no matter how much turmoil and pain he has to endure along the way.
In contrast, Harry shared the heartbreaking revelation that after two conversations with his father, Prince Charles, about the possibility of himself and Meghan stepping back from senior royal life, Charles eventually "stopped taking my calls." Let it sink it for a moment that even in death, Diana is a more supportive and loving parent to Harry than his living father.
At the end of the day, Harry appears confident in the couple's choice to leave royal life. "I'm just really relieved and happy to be sitting here with my wife by my side," he tells Oprah. "Because I can't even begin to imagine what it must have been like for [Diana] going through this process by herself all those years ago. Because it was been unbelievably tough for the two of us, but at least we have each other."
This article was originally published on