This 3-Month-Old Dressed As Harry Potter Is Pretty Much The Best Thing, Ever
by Maria Guido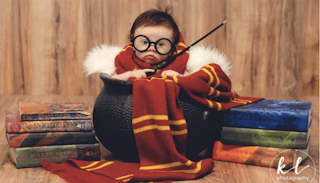 Image via Instagram/ Kayla Glover
This Harry Potter photoshoot wins everything
If you've been feeling like there's something missing in your life, we've found out what that is. A three-month-old dressed up as Harry Potter. You're welcome.
Photographer Kayla Glover dressed her then three-month-old daughter Lorelai up for a magical photoshoot in August, and the images are now going viral because, oh my god. This may be the cutest thing, ever.
Look. At. That. Face.
"The best part is those glasses are actually mine from when I was a teenager!" Glover told PEOPLE. "I got them at a midnight release party for Order of the Phoenix in 2003 and kept them all these years, so it's really full circle."
Here her little superfan is surrounded by her Harry Potter collection.
"I don't remember life without Harry Potter, it might sound weird, but it's been one of my oldest friends!" she says."I wanted it to be a part of her childhood!" she says. "Once she reached an age where she could hold a wand and interact with the camera, everything came together."
What a cool way to incorporate your own passions into a baby photoshoot. We have a feeling this is going to spawn a new trend of infant pics.
You're a wizard, Lorelai.
[free_ebook]