Harry Potter Fans Can Spend Christmas At Hogwarts And It Sounds Beyond Magical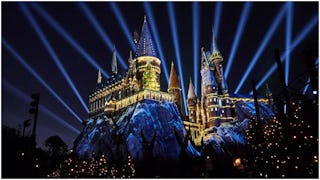 Image via Wizarding World of Harry Potter
You can spend Christmas at Hogwarts, so basically dreams really do come true
Okay, Harry Potter fans, we're going to need you to sit down and take a deep breath. This winter, you can eat Christmas dinner at the actual Hogwarts Great Hall. It will be completely decked out with original props from the series and it literally looks like a snowy, magical wonderland. Buckle up and pass the chocolate frogs, because this sounds like a complete dream come true.
Here's the whole bewitching deal. Warner Bros. Studio Tour London – aka the exact location where all the Harry Potter films were shot – is opening up the Great Hall doors December 10-12th for an enormous feast. You'll get to sit at the actual tables where all the Hogwarts students used to eat their meals and enjoy two courses of a Christmas dinner. There's also Hogworts in the Snow tours running from Saturday 17th November – Sunday 27th January 2019
Will Hagrid stop by and say hello? It's too soon to tell. But you can probably expect at least a few Howlers to swing through.
Not only will you get to eat a decadent feast in the Great Hall, but you'll also be treated to a complete studio tour. There will be drinks and dancing (BASICALLY THE YULE BALL) and you'll eat your dessert at Platform 9 and 3/4. The castle will be covered in fake snow, there will be icicles dripping from the ceiling, and the Gryffindor common room will be dressed up in Christmas decorations. Accio so many tears right now.
If this all sounds incredibly wonderful but you don't have quite enough galleons to fly across the pond right now, there's one other truly magical option. The Wizarding World of Harry Potter in Orlando, FL will also be getting in the Christmas spirit, with trees, garland, and all the twinkly lights.
There will also be Christmas-themed food and performances by the Hogwarts Frog Choir and Celestina Warbeck and the Banshees. Oh, and all the Bertie Botts Every Flavor Jelly Beans you can stomach (which, let's be real, isn't a whole lot).
Still need convincing? Just look at Diagon Alley during the holidays. And Hogwarts. Be still my muggle heart.
Now, quick, go buy all your Potter tickets. Harry, Ron, and Hermione are awaiting your arrival.