This Harry Potter-Themed Clothing Line For Adults Is Magical AF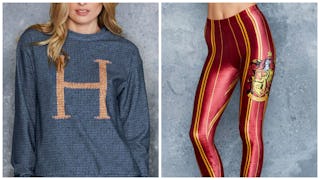 We'll take the lot
The Harry Potter book series is long over, but true fans are always on the lookout for magic in our boring Muggle lives. For those of us who grew up with the books, they remind us both of our childhood and the idea that good can always overcome evil.
Thanks to Black Milk Clothing's new Hogwarts collection, we don't have to watch the movies or reread the books in order to get our Harry Potter fix. There's a new line of Harry Potter-themed clothing for women, and it's magical AF.
Of course there are Gryffindor leggings.
Or if you're feeling your inner Bellatrix lately, snag a pair of Slytherin ones.
If leggings aren't your thing there are tops, skirts, shorts, and even a dress to choose from. All of them contain subtle nods to the best book series ever written.
The items range in price from $46 for tops to $100 for a maxi skirt. Definitely worth it. You'll be able to tell which moms at play group have actual friend potential based on who notices your HP duds.
This owl post shirt tells people you're a fan without plastering the House crest over your chest.
Cute basic shorts with a magical twist.
Only hardcore fans will get this shirt's reference.
A comfy t-shirt dress? Accio!
Here's a Weasley's Christmas sweater without all that itchy wool.
You'll actually want people to see you wearing this invisibility cloak.
This icon-patterned shirt is unisex cut, so you can buy it as a gift for your man but then steal it for yourself.
Why have one patronus when you can wear them all?
We'll always be sad that we won't actually get a Hogwarts acceptance letter. But at least we can get these cute clothes.
This article was originally published on