Harry Potter Cookie Cutters Are Here To Make Your Winter More Magical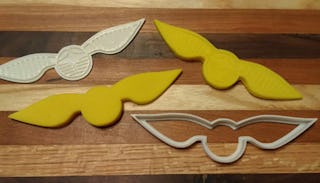 Harry Potter cookie cutters make sweet treats almost too cute to eat
All of the Harry Potter movies combined have a total run time of 19 hours and 38 minutes. The books contain a total of 4,224 pages and just over a million words. No matter how you're doing your Harry Potter marathon, it's gonna take a while and you're gonna need some snacks.
Related: Accio Fandom! The 30+ 'Harry Potter' Spells Every Hogwarts Fan Should Know
Luckily, Etsy sellers are all over that. The most adorable Harry Potter cookie cutters have been popping up all over the site, so if readers/viewers find themselves craving a little something sweet during a Harry Potter binge, they don't even have to break the story's spell to grab a snack.
Typing "Harry Potter cookie cutters" into Etsy's search bar will bring up all the site's offerings, from owls and broomsticks to golden Snitches and the Sorting Hat. The best part about them is that they look easy AF to use, so moms introducing their little ones to Hogwarts can supplement the magic with a joint cookie making sesh.
Almost too cute to eat, right?
The key word there is "almost."
There are even house coats of arms available, so after you and your little ones take every sorting quiz you can find online until you land in Gryffindor, you can celebrate with a big batch of perfectly themed sugar cookies. Or, if you're chill with being in Hufflepuff or Slytherin for some reason, you can make cookies for those, too (JK — proud Slytherin right here).
The best thing about them — they look amazing as is, so you don't even have to worry about frosting. You have an instant Pinterest-worthy cookie on your hands, moms. You're welcome.
Most of these cookie cutters can be yours for around five dollars, so there's basically no reason not to buy a bunch of them. And there's still plenty of winter left, which means so many days that will be great for curling up with a warm blanket, hot chocolate, cookies and a book or movie marathon. You just know these cookies will make it next level.
This article was originally published on