This 'Harry Potter' Cruise Is A Muggle's Dream Vacation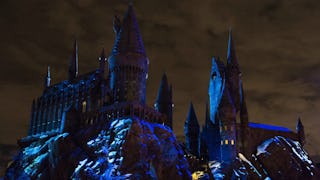 Image via Tara Ziemba/WireImage
Want to see all of London's Harry Potter sights in one week? This cruise is for you
It's tough to be a Muggle. We have to live with the fact that we never got our Hogwarts letters and we never will, and instead are doomed to live a life devoid of the kind of magical adventure that happens on the regular for Harry Potter and all his pals.
Or do we? Pack your bags, Muggles, because finally you have a chance to live out the Harry Potter adventure of your dreams, while having a week-long luxury vacation at the same time. Barge Ladies, an American travel company, is offering Harry Potter themed London river cruises that will allow up to eight people to take a luxury ride down the River Thames, stopping at all of the city's notable Harry Potter sights.
https://www.instagram.com/p/BeYSx0Og2-t/?taken-by=bargeladycruises
The Harry Potter Magic Cruise, available during just two weeks in August 2018, will take place in a four-cabin river barge equipped with six staff members, including an onboard chef to whip up Harry Potter-inspired meals for the duration of your cruise. Stops include Virginia Water, which served as the filming location for the Great Lake in several of the Harry Potter films; Picket Post Close, the home that served as 4 Privet Drive in Harry Potter and the Sorcerer's Stone; and Christ Church College, home to the movie version of the Hogwarts Great Hall.
You'll also take one day off from cruising the river to be escorted to Warner Bros. Studios for a Harry Potter behind-the-scenes tour that will showcase real props, costumes and sets from the films. Basically every Potterhead's bucket list location in London is included on this cruise.
There are a couple of downsides. Since the Harry Potter itinerary is only being offered for two weeks, you can bet spots will sell out faster than you can say "Accio suitcase." You're also going to need a Harry Potter-sized pile of galleons to afford to go — the cruise costs $34,000. Even though that can be split by up to eight people, you're still looking at $4,250 per person, if you manage to fill the boat to capacity. Still, living out all of your dreams of being a witch or wizard for an entire week with a boat full of friends? It might just be worth it.