If You're Out Of Ideas You Can Dress Your Elf Like Harry Potter Now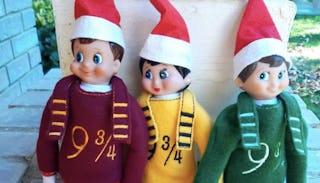 Image via Etsy/SuperMomGifts
And they come with their very own tiny scarves
If you're drowning in Elf hell and have run completely out of ideas on the various places to hide and/or decorate it to increase your children's enjoyment of the holidays, we feel you. It's a commitment, and in the spirit of that commitment one woman came through with a glorious new idea — Harry Potter-inspired elf outfits.
Etsy owner Super Mom Gifts has come out with the most adorable way to accessorize your elf this season with a Harry Potter- inspired elf sweater and scarf set. They come in four different color combos, are made of fleece, and are all homemade. If you don't like any of the color choices, you can contact the shop owner and according to her site, she'll make you one of your choosing at no extra cost.
Seriously, Potter fans will be trying to calm their inner Muggle after seeing their very own elf in one of these outfits. Just think of all the mischief they can get up to sporting one of these. And at only $10 per set, you can probably even grab a couple to keep you (and your Harry Potter-obsessed kids, of course) entertained the entire season.
This is definitely the season for Potterheads. There's the sweary wine glasses for the naughties in your life, the advent calendar with 24 individual Happy Potter figurines, and even singing sorting hats perfect for every member of the family. With so many choices, it's impossible to go wrong.
Now, if your kids aren't into Harry Potter (yet), Super Mom Gifts also has you covered with PJ Masks elf outfits. They come in red, blue, and green (though any color can be requested) and there's an option for just a sweater only, if you're so inclined for $12 or $8 respectively. If your kid loves PJ Masks, they'll flip over these adorable elf accessories.
And just when you think it can't possibly get any cuter, this shop owner created Grinch-inspired elf-wear. These little fleece sweaters are only $7 and so cute it might actually even make me excited for our elf again. (And I'm pretty sick of him to be honest.)
No matter which sweater combo you choose, you can't go wrong. It may not take away the pain of finding a new hiding spot each night but it's hard to be mad at an elf in a Grinch sweater.
This article was originally published on