The Internet Is Loving This Harry Potter-Themed Christmas Tree
by Mike Julianelle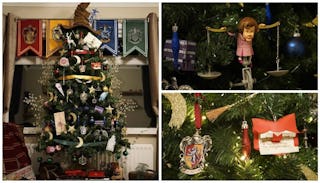 Image via Kathryn Burnett
A Harry Potter mega-fan decorated her tree in Potter paraphernalia and it's amazing
Christmas is always a magical time of year and for the past two years, one dedicated English woman has made it even more magical than usual by decking out her Christmas tree in nothing but Harry Potter-themed ornaments and decorations.
Buzzfeed has all the details on this incredible Potter tribute tree. One look at it and it's clear that, had the tree's creator, a 29-year-old Harry Potter superfan from northern England, attended Hogwarts, she surely would have helped her classmates win the House cup.
"This is the second year I've done the tree, but this year I added more," Kathryn Burnett, of Seaham, England, tells BuzzFeed. Although being a member of House Slytherin, she may be lying. I kid, I kid!
Decorating the tree takes about eight hours, including the display she's set up around it. The entire endeavor is made a bit easier by the fact that Burnett already owns plenty of HP-related items – items she's collected during her 11 visits to Warner Bros. Studios.
"I have a good collection of all things Harry Potter and I was sitting one day thinking it's a shame I keep them all in boxes in a cupboard," she said. "Then I thought, 'Wouldn't it be fun to have a HP-themed tree?'"
The tree (and the surrounding area) is festooned in countless Potter items, including the Hogwarts express, the crests of all of the houses, mini-broomsticks, Harry's iconic glasses, and even one of the envelopes the invitation to the famous wizarding school arrives in.
The internet seems to agree that her tree is a ton of fun. Her Facebook album of photos of the tree has been shared over 66,000 times. The creator of the Potterverse, J.K. Rowling herself, even liked a friend's tweet about the tree.
Which must be even more of a thrill for Kathryn Burnett than catching the golden snitch.