Feast Your Eyes On This Magical Harry Potter Wedding
by Jerriann Sullivan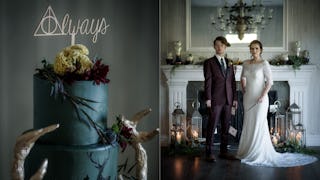 Images via f27 Photography
These Harry Potter wedding photos are perfection
If you're a fan of the magical world J. K. Rowling created, you're going to flip when you see this Harry Potter wedding. From hand-crafted wands to a Hogwarts feast, this Harry Potter wedding is making us wish we thought of this brilliant idea.
"This styled shoot was a collaboration between a bunch of Harry Potter loving vendors and one very dedicated coordinator who hadn't read a single book or seen the movies," Leah and Isaac Hsieh told Scary Mommy. The couple runs f27 Photography and is responsible for all the dreamy photos you're about to see. Without further ado, check out maybe the best wedding theme ever.
"The woodland colors and motifs were inspired by the Marauders Era of Harry's father James Potter and his best friends growing up in the 70s in the UK," the photography duo explained. "We used antlers to represent James, as his nickname is Prongs, hand-carved wands as table settings, Hogwarts letters around the fire, antique furniture, and even an incredible rustic spread of food to represent the Hogwarts feast. "
"The stunning lace dress had a vintage feel that we thought looked perfect on our witch bride, and the jewel-toned burgundy suit would be any dapper wizard's dream," the Hsieh's shared. "Our bride looked perfect with forest green eyeshadow and a stunning braided updo, and together the couple looked the very picture of a stylish wizard family."
But for real, though, how much does the groom look like Harry Potter? The only thing this wedding is missing is Hermione and Ron. "Our incredible stylist was cutting our groom's hair on site, giving him a stylish do, and once we placed the iconic round glasses on his nose, we told him he wasn't allowed to take them off," the photographers said.
While the wedding is definitely on theme, the photographers and stylists made sure it was subtle. "Though this late October day was a sunny 105 degrees, we used shade and lighting to achieve the cool, overcast atmosphere that reminded us of London," the Hsieh's explained. "We wanted to hint at subtle homages to this fandom rather than an outright theme."
This article was originally published on