Harry Styles Might Be Dating Olivia Wilde & TBH We're Jealous Of Both Of Them
by Christina Marfice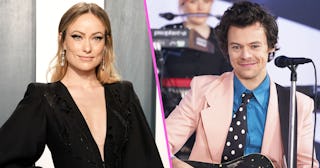 Jon Kopaloff/WireImage/JNI/Star Max/Getty
The internet is a mix of jealous and heartbroken that Harry Styles and Olivia Wilde might be dating, and TBH, us too
It's not often that the universe delivers us a celebrity as unproblematic and universally stan-able as one Harry Styles, former One Directioner and crusader for gender equality, breaking free of societal norms, wearer of gorgeous dresses, and all good things. Find me a woman (or man) who wouldn't want to be Harry's spouse and/or best friend, and I'll say they're lying. But the singer appears to possibly be kicking off 2021 by taking himself off the market, and humans all over the world are, to put things lightly, emotional.
Styles was seen over the weekend holding hands with actress Olivia Wilde as the pair attended his agent's wedding together. Later, they were spotted with luggage at Styles' house, further fueling dating rumors. Sure, this is all speculation at this point, but you have to admit, as much as it may pain you to do so, that they look very cozy and chummy in these pap photos.
They also look incredibly beautiful. Like, Wilde is stunning as always. Styles is obviously Harry freaking Styles and nothing more needs to be said about that. Is this the most attractive celebrity maybe-a-couple that's ever been rumored to exist? That argument could certainly be made.
Neither Wilde nor Styles has publicly said anything about the pictures or their relationship, but a source did tell People magazine, "They were affectionate around their friends, held hands and looked very happy. They have dated for a few weeks." Dating for a few weeks in these pandemic times is pretty serious, as we all know. If you're going to risk having to quarantine with someone, you'd better make sure they're real special.
Naturally, the internet has a lot of feelings about this news. People are a mix of heartbroken, overjoyed, and everything in between. It's just a very emotional moment for some folks, OK?
I mean, if none of us "normal" people can have Harry Styles or Olivia Wilde, maybe it's for the best that they have each other?
At the very least, we should try to push our own complex feelings aside and wish them well in their relationship, right?
Styles has been popping up in our feeds a lot recently due to his amazing Vogue cover that featured the pop star absolutely rocking a dress. Of course controversy followed but he handled it immaculately of course.
So don't mind us, we'll just be refreshing our Twitter moments obsessively to see if either half of this gorgeous couple speaks out and confirms or denies the dating rumors.