Harry Styles' 'Tiny Desk' Performance Is What The World Needs Right Now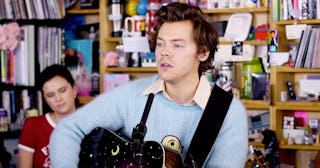 NPR.org
Harry Styles is the latest musician to take part in NPR Music's Tiny Desk Concerts, performing hits off his latest album "Fine Line"
With the coronavirus pandemic wreaking havoc on life as we know it, things are feeling a little bleak. Luckily the truly amazing Harry Styles is here to brighten up our day just a little bit. The former One Direction member was the latest musician to take part in NPR Music's Tiny Desk Concerts, a video series in which musicians literally play a live concert from, well, behind a tiny desk!
Styles, looking totally adorable in a powder blue sweater, started off by admitting the awkwardness of putting on a show in host Bob Boilen's working office. "It just feels like you're in the way," he joked. But, being the pro that he is, he managed to absolutely kill it.
Backed by his touring band — which includes Sarah Jones on drums and vocals, Mitch Rowland on guitar, Adam Prendergast on bass and vocals, Ny Oh on guitar and vocals, Charlotte Clark on piano, Wurlitzer, guitar, and vocals — Styles performed several songs from, Fine Line, his latest studio release. They included Cherry, Watermelon Sugar, To Be So Lonely, and Adore You. Every one of the acoustic renditions was truly beautiful.
"I have to come into NPR more often," Styles said after he and his band played their first song. "It's nice here."
In between performing his hit songs, he also provided insight into his song writing process of each tune. For example, he revealed that he was inspired to write Watermelon Sugar when, on a day off from his 2017 tour in Nashville, he saw Richard Brautigan's novel by the same name on a table."It's probably the longest it's ever taken me to finish a song," he admitted. "We kind of liked it when we first had it, but I really hated it for a long time and it kept coming back into the mix."
His performance was a bit more serious than his December 2019 show on The Late Late Show's Crosswalk:The Musical, where host James Corden invited the heartthrob to perform his music in the middle of a crosswalk while dodging oncoming traffic.
"I love James, but there's no way I'm doing this. It's an insane idea," Styles panned to the camera at the start of the show. "Insane?" Corden responded. "You know who didn't think it was insane? The Beatles. What do you think Abbey Road was all about? That was the first ever crosswalk concert. And Paul wasn't wearing shoes."
"Think about it, Harry. You're always saying you're better than The Beatles. This is your chance to prove it," Corden then said to Styles. "I've literally never said that," he deadpanned back to the host.
In the end, the show was epically amazing. However, instead of sitting at a desk performing Watermelon Sugar, he did so on top of a float, surrounded by people — including Corden himself — dressed up like watermelons.