People REALLY Want Harry Styles To Be Prince Eric In 'The Little Mermaid'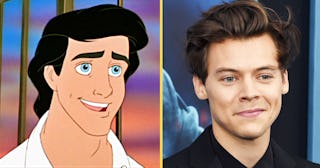 Disney and Jamie McCarthy/Getty
Harry Styles as Prince Eric? The internet says yes
Just days after it was reported that Harry Styles was in the running to star in Baz Lurhmann's Elvis biopic (which ultimately went to another actor), the former One Directioner may have his sights set on another iconic role. According to reports, Styles is in early negotiations to play Prince Eric in Disney's live-action remake of The Little Mermaid.
I have to admit, Harry Styles is hardly a blip on my peripheral radar. I was too old to partake in all the One Direction mania that made him an international star, so as a Little Mermaid/Disney superfan, I didn't really know how to feel about this. Then I saw some clips of him acting in Dunkirk, and all my fears were laid to rest. Boy band fame aside, this kid can act.
Obviously his star doesn't shine as bright as Halle Bailey's, who's been cast to play Ariel, but it's nigh impossible to find an actor who can match that woman, because she is a perfect angel (Harry Styles fans, please do not @ me). Still, people are very, very here for the idea of Styles starring in this movie, and who am I to argue with the masses?
People are also ready to audition for whatever role it takes to get them onset with Styles.
I'm not gonna lie, when I first saw headlines I wasn't here for it, but the internet may just have changed my mind.
This outpouring of support comes after a lot of controversy over Bailey's casting, which attracted a lot of racism. There are a lot of people out there who can't handle the idea of a racially diverse cast in 2019. Poor, unfortunate souls. It's sad, but true. Not gonna lie, I was kind of hoping for a non-white Prince Eric (Harry Shum Jr., anyone?) just to see the racists lose their shit a little more.
But whoever gets chosen as Prince Eric will likely join an absolutely epic cast. That's kind of Disney's jam lately (see: The Lion King) and Bailey is already an epic and perfect casting. In addition to her, Melissa McCarthy and Lizzo are two names we've heard thrown around for the role of Ursula, and either of them would be iconic in that role. And then there's the job of playing King Triton, which Terry Crews has been pretty open about wanting. Basically, The Little Mermaid is shaping up to have another epic Disney cast, whether that includes Harry Styles or not. Though if it does not, the internet will apparently have some things to say about it.