Harry Styles Performs Surprise 'Landslide' Duet With Stevie Nicks At Album Release Party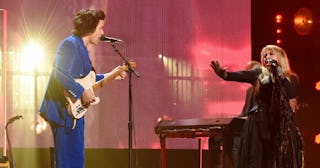 Getty Images
Harry Styles and Stevie Nicks singing the hit Fleetwood Mac tune "Landslide" might bring you to tears
Okay, it is official: Harry Styles wins December. First, he cracked us up with his hosting skills on The Late Late Show. Then, a few days later he followed it up with his epically hilarious and skillfully impressive Sidewalk the Musical. We thought he was done dazzling us with charm, talent, and painfully good looks, but nope, the former One Direction boy bander saved the best for Friday night. During his album release party at the Forum in Los Angeles on December 13, 2019 Styles brought a surprise guest onstage for the encore — the one, the only, the legendary Stevie Nicks — and the two belted out the most intimately impressive version of Fleetwood Mac's hit song Landslide that we have ever experienced.
"It wouldn't be an album release without this young lady," Styles told his 17,000 fans at the sold out show to celebrate the release of his second album, Fine Line. "I have a feeling that you're going to enjoy this as much as me."
And yes, they did. Just as much as us.
Styles, rocking a bright pink shirt with boho style wide leg white trousers, looked deeply into the legendary singer's eyes, evening holding her hands and slow dancing with her as they sang the lyrics to the tear-jerking tune.
"I've been to over 300 concerts and I have to admit, Harry Styles and Stevie Nicks singing 'Landslide' together during #FineLineLive to be one of my top favorite concert moments of all time," stated one person Twitter.
"Stevie Nicks and Harry Styles doing 'Landslide' at his album launch show and I'm telling you, it was a moment," wrote another.
The performance even brought some to tears.
In addition to his new tunes, Styles also performed the ultimate One Direction hit "What Makes You Beautiful," songs from his self-titled debut solo album, including "Sign of the Times" and "Kiwi", and a cover of Paul McCartney's "Wonderful Christmastime."
Nicks and Styles, who has dubbed the female rock legend as "the magical gypsy godmother who occupies the in-between," seem to have an ongoing, mentor/mentee relationship. They first hit the stage together a few years back and sang a few tunes together, when Styles released his first solo album. Then, earlier this year Styles was asked to deliver Nicks' induction speech into Rock & Roll Hall of Fame — which is seriously next-level."
She is more than a role model — she's a beacon to all of us," Styles gushed over her at the Rock & Roll Hall of Fame. "Whenever you hear her voice, life gets a little bit better. When she sings, the world is hers, and it is yours. She is everything you've ever wanted in a lady, in a lover, in a friend."
The duo sang "Stop Draggin' My Heart Around," with Styles standing in for the late Tom Petty.
Their platonic relationship is seriously adorable, making us love Harry Styles even more than we thought possible.