Harvard Freshman Deported After Officials Found Posts By Friends That Were Critical Of The U.S.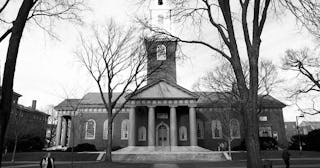 Darren McColleste/Getty
The incoming Harvard freshman was deported because he had social media friends who had been critical of the U.S.
Ismail B. Ajjawi, a 17-year-old Palestinian resident of Lebanon, was ready to begin classes at Harvard this fall after earning a scholarship to attend the prestigious Ivy League school. But when he arrived at Boston Logan International Airport earlier this week, he was aggressively questioned for hours and forced to leave the United States. The reason? Immigration officials found that he had friends who had posted political views on social media that "oppose" the U.S.
In a written statement, Ajjawi described hours of being locked alone in a room while officials searched his phone and laptop, after which he says an immigration agent "screamed" at him that he was not allowed in the United States.
"When I asked every time to have my phone back so I could tell them about the situation, the officer refused and told me to sit back in [my] position and not move at all," he wrote. "After the 5 hours ended, she called me into a room, and she started screaming at me. She said that she found people posting political points of view that oppose the US on my friend[s] list."
He continued, "I responded that I have no business with such posts and that I didn't like, [s]hare or comment on them and told her that I shouldn't be held responsible for what others post. I have no single post on my timeline discussing politics."
But the officer canceled Ajjawi's visa and told him he would be deported.
Ajjawi is now back home in Lebanon, working with lawyers to try to resolve his case so he can join his cohort at Harvard, where classes will begin Tuesday. A Harvard spokesperson said the school is also trying to assist however it can.
"The University is working closely with the student's family and appropriate authorities to resolve this matter so that he can join his classmates in the coming days," a Harvard spokesperson said in a statement.
In their own statement, U. S. Customs and Border Protection spokesperson Michael S. McCarthy wrote that Ajjawi was found to be "inadmissible" to the United States.
"Applicants must demonstrate they are admissible into the U.S. by overcoming ALL grounds of inadmissibility including health-related grounds, criminality, security reasons, public charge, labor certification, illegal entrants and immigration violations, documentation requirements, and miscellaneous grounds," he wrote. "This individual was deemed inadmissible to the United States based on information discovered during the CBP inspection."
But if the bar for being admissible to the U.S. is not having any friends who have ever criticized the country online, a lot of citizens aren't going to meet that criteria. I know I wouldn't. This is a terrifying new level of immigration control that's being exercised by this administration, and we need to all be concerned about what this signals.