Harvey Weinstein's Latest Charges Could Land Him In Prison For Life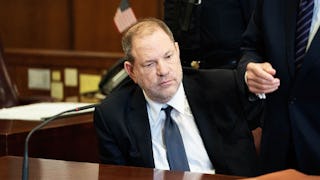 Image via Getty Images/ (Photo by Steven Hirsch-Pool
Charges include predatory sexual assault which could carry a life sentence
Disgraced former film producer Harvey Weinstein faces three new charges this week, one of which could land him in prison for the rest of his life.
New York County District Attorney Cyrus Vance announced that these new charges include an additional count of Criminal Sexual Act in the First Degree stemming from an incident in 2006. Of the more than 80 women who have accused Weinstein of sexual harassment, misconduct, and assault, these latest charges are his most serious yet.
This additional count of a criminal sexual act in the first degree is for "a forcible sexual act against an unidentified woman," the third victim to surface in his criminal case. He's also being charged with two counts of predatory sexual assault, a Class A-II felony, which carries a sentence from ten years minimum, and a maximum of life in prison.
The indictment alleges that he "engaged in oral sex by forcible compulsion" around July 10, 2006, in New York, the LA Times reports.
"A Manhattan Grand Jury has now indicted Harvey Weinstein on some of the most serious sexual offenses that exist under New York's Penal Law," Vance said in a statement. "This indictment is the result of the extraordinary courage exhibited by the survivors who have come forward."
Jodi Kantor and The New York Times broke the initial Weinstein story last fall — reporting that has since earned Kantor and her team the Pulitzer Prize.
Weinstein was arrested in May after being charged first and third-degree rape, criminal sexual acts, sex abuse, and sexual misconduct on two women. The forcible sexual acts on those charges allegedly occurred in 2013 and 2004, respectively. He immediately posted the $1 million bail and pleaded not guilty to all charges.
His arrest marked a significant victory for the #MeToo movement in which countless victims have had the courage to come forward to accuse powerful figures like Louis CK, Matt Lauer, Kevin Spacey, Sylvester Stallone, Morgan Freeman, and many others. TIME magazine even named The Silence Breakers as the 2017 Person of the Year, honoring not one woman, but all women who were brave enough to come forward and say, "No more."
It's been almost nine months since the initial charges against Weinstein came to the public's attention. Since then, actors such as Ashley Judd, Gwyneth Paltrow, Angelina Jolie, Rose McGowan, and many others have come forward to share their heartbreaking stories of abuse at the hands of Weinstein. The New York Times broke the story and since then countless women have joined together to share their own accounts of his horrendous behavior.
New York City is the first city to bring charges against the former producer.
This article was originally published on