Video Shows Two Performers Boldly Confronting Harvey Weinstein At Private Event
by Cassandra Stone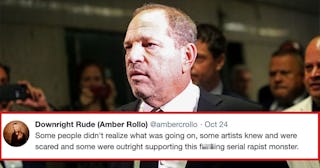 Yana Paskova/Getty and Amber Rollo/Twitter
Harvey Weinstein was eventually asked to leave by the venue hosting the event
A female comedian was booed and heckled earlier this week after she boldly protested the presence of alleged rapist, Hollywood producer Harvey Weinstein, at the event where she was performing. Two other attendees were also kicked out for confronting Weinstein.
The incident unfolded at an event in New York to watch Actor's Hour, a monthly happening dedicated to "artists" at a bar in the Lower East Side. Weinstein showed up, presumably to watch the performances. Comedian Kelly Bachmann called him out directly while on stage, incorporating his unexpected presence into her act.
"I'm a comic, and it's my job to name the elephant in the room. Anyone know what that is?" Bachman said in a video of the performance, adding that Freddy Krueger was in the room. ""I didn't know we had to bring our own Mace and rape whistles to Actor's Hour. I have been raped, surprisingly by no one in this room, but I've never gotten to confront those guys," she said. "So, just a general fuck you."
Her words were met with boos from the audience — no official word on what privileged, short-sighted, ignorant white men were heckling her.
Weinstein currently faces criminal charges of predatory sexual assault, criminal sexual act, first-degree rape and third-degree rape, to which he has pleaded not guilty. He maintains that all sexual encounters he's been involved in have been consensual.
Another actor in the audience, Zoe Stuckless, joined in the confrontation and demanded Weinstein be asked to leave. Instead, Stuckless was kicked out of the bar, and Bachman left with them, the comic tells CNN.
Stuckless says they became enraged after watching male actors and comedians engage with Weinstein as though he weren't an alleged rapist and criminal. Their emotional confrontation will give you goosebumps.
"Nobody is going to say anything?" they shout in the video, pointing directly to Weinstein. "I'm going to stand four feet from a fucking rapist and nobody is going to say anything."
"I was kicked out of the bar tonight. His bodyguards herded me out. The event organizers were happy to see me go," Stuckless writes on their Facebook page. "In some ways tonight was a horrible, painful reminder of the power a man like Weinstein holds even now. It was a reminder that even in this time of relative awareness it is hypnotically easy to be pulled into a culture of silence. However, it was also a reminder that our voices have so much more power when we stand together."
Once the videos of Bachman and Stuckless started going viral, people all over social media shared their support. Because they stood up against one of the most powerful predators in modern history, and they deserve every ounce of recognition for bearing the emotional burden for all sexual assault survivors in their bravery.
https://twitter.com/jetpack/status/1187515422373044224
https://twitter.com/jetpack/status/187499560215687168https://twitter.com/jetpack/status/1187614532157476864https://twitter.com/jetpack/status/1187524600558567424
And because the world surely hasn't heard enough about how Weinstein is the real victim, his spokespeople released a statement (how is anyone still voluntarily on his payroll?!) He was eventually asked to leave the venue, however. After the confrontations.
"Harvey Weinstein was out with friends enjoying the music and trying to find some solace in his life that has been turned upside down. This scene was uncalled for, downright rude and an example of how due process today is being squashed by the public, trying to take it away in the courtroom too," the statement says.
Bachman tells CNN she's received a mix of responses, from cheers to booing to criticism that her comments were more uncomfortable than funny. "No one has a responsibility to be funny in that moment," she said. "It was the right thing to do, to let the moment be uncomfortable."
This article was originally published on