Harvey Weinstein Got Slapped In The Face, And Not Gonna Lie It Was Fun To Watch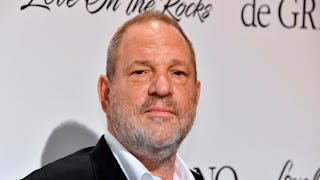 YANN COATSALIOU/AFP/Getty Images
Harvey Weinstein gets slapped, somewhere an angel gets its wings
Harvey Weinstein was slapped while exiting a restaurant at a Paradise Valley resort last night.
According to TMZ, the slap happened in Elements restaurant at the Sanctuary on Camelback Mountain Resort & Spa in Paradise Valley. Is that where millionaire predators go to hide out from public scrutiny? A fucking spa? I hate everything.
TMZ is truly doing some good work today. Here's Harvey's latest work, starring his oil-stained shirt, pathetic face, and scared recoil. Oh, and some drunk dude.
This is my favorite part, so I've made a GIF. You're welcome:
The man can be heard repeatedly saying, "Get the fuck outta here. You're a piece of shit. You're such a piece of shit for what you did to these women." TMZ reports that before dinner the man asked Weinstein for a photo, which he rejected. "Steve tells TMZ Weinstein was belligerent and said no, while a restaurant manager says Weinstein was 'sweet' and politely declined," TMZ reports. The man told TMZ he'd had "quite a bit to drink" before he slapped him.
ABC reports Weinstein didn't call police and wasn't harmed. The spa provided ABC with this comment: "Our guests' privacy is paramount at Sanctuary on Camelback Mountain Resort & Spa. Therefore, we are unable to provide a comment."
So basically, no comment.