Harvey Weinstein's Former Assistant Tells Her Story 20 Years Later
by Julie Scagell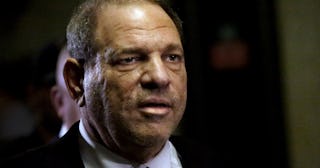 Yana Paskova/Getty
Rowena Chiu was a former assistant of Weinstein's and is now telling her story
By now, most of us have heard the stories about Harvey Weinstein and his dozens of victims. Over eighty women in the film industry have accused him of everything from sexual harassment, to inappropriateness, to rape. One more woman — and Weinstein's former assistant — has now come forward with a chilling account of Weinstein's alleged actions and explains why it took her nearly 20 years to come forward and tell her story.
Rowena Chiu wrote in The New York Times Opinion section about her experience with Weinstein, writing in part, "Harvey Weinstein told me he liked Chinese girls. He liked them because they were discreet, he said — because they knew how to keep a secret. Hours later, he attempted to rape me."
Chiu's chilling account of her time with Weinstein echos many of the other victims' stories — one filled with shame, embarrassment, and the notion that if they didn't keep his secrets, he would ruin their lives.
The Oxford graduate said she was hired to answer phones at his talent agency and to assist Weinstein in London on his European productions. She said she was warned about his reputation but was told to "handle him robustly" and she would be fine. "Harvey played games of this sort impeccably, testing how far he could go, wielding both the carrot (if you survived working with him, he could make your career) and the stick (if you refused his advances, he would do his best to ensure you never again worked in the movie industry)," she wrote of his grooming process, saying he would test women to see how much they could tolerate.
She also talked about the many imbalances of power she felt — as a woman, a minority, from a wealth perspective, and being a junior member of his team. She said all of these imbalances came together one night when she was reading scripts with him. After wearing two pairs of tights "for protection," knowing his reputation, he removed them, pushed her back on the bed, and tried to rape her. He told Chiu "just one thrust, and it will all be over."
She managed to escape the room but what she went through during her employment with the Weinstein company would haunt her for decades. "What happened on that night would shape the rest of my life," Chiu wrote. "Unbeknown to me, I was about to keep a secret — a devastating, suffocating secret, one that would drive me to attempt suicide twice, one that I wouldn't breathe a word of to my husband of a decade, one that would silence me for the next 21 years."
Today, criminal investigations into complaints from at least six women are ongoing in Los Angeles, New York City, and London. Weinstein was arrested in New York in May 2018, charged with rape and other offenses. He posted bail and is now awaiting trial. He settled with many women, including Chiu, over the years, giving them money in exchange for their silence.
Chiu said though it took her almost 20 years to finally feel safe enough to tell her story but that it was "important to me now that I speak up, that I allow my voice, an Asian voice, an assistant's voice, to join the array of voices in the #MeToo movement."