Trump No-Shows For White House Correspondents' Dinner, Epic Roast Takes Place Anyway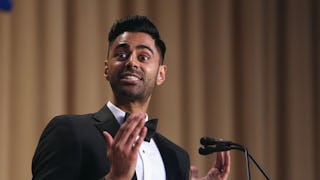 Image via Tasos Katopodis/Getty Images
Trump no-shows for annual WHCD
The White House Correspondents' Dinner is an annual event which celebrates the role of journalism and the journalists who cover the White House. It is a night where politicians, lawmakers, and reporters from both sides get together and put aside their differences to honor those in the field.
Of course this year's event looked very different because everything looks different because we are in hell. The dinner is always revered as a source of some of the best comedy one-liners, with former hosts like Stephen Colbert and Conan O'Brien. It is a forum where open mouth gasps are more appreciated than a laugh. Hasan Minhaj, a senior correspondent for The Daily Show, was this year's host. And he did not disappoint.
Typically, the President attends and takes the jabbing with a knee slap and smile. He even gets up to deliver his own speech full of one-liners and roast-worthy material, all to the delight of his administration, journalists and celebrities. That didn't happen this year ("'cause he can't take a joke").
Trump is the first President since Reagan not to attend this event. The reason Reagan didn't show was because he was recovering from an assassination attempt.
Trump's absence, and the absence of most of his administration, didn't slow Minhaj down one bit from roasting them anyway. And his non-stop stream of perfectly timed and executed jokes actually became a testament to how important — and powerful — the first amendment is.
Here is his whole, amazing set.
"You guys are [Trump's] public enemy number one. It's journalists, then ISIS, then normal length ties."
"I would say it is an honor to be here, but that would be an alternative fact—it is not. No one wanted to do this, so of course it lands in the hands of an immigrant."
"We have to address the elephant that's not in the room. The leader of the country is not here. And that's because he lives in Moscow."
"[Trump] tweets at 3 a.m. sober. Who tweets at 3 a.m. sober? Donald Trump does, because it's 10 a.m. in Russia. Those are business hours."
"Betsy DeVos couldn't be here—she's busy curating her collection of children's tears."
"Sean Spicer's been doing PR since 1999. He has been doing this job for 18 years. And somehow, after 18 years, his go-to move when you ask him a tough question is denying the holocaust. That is insane—how many people do you know who can turn a press briefing into a full-on Mel Gibson traffic stop?"
"Mike Pence wanted to be here tonight but his wife wouldn't let him because apparently one of you ladies is ovulating, soooo…good job, ladies."
"This administration loves deleting history faster than Anthony Weiner when he hears footsteps."
"Jeff Sessions couldn't be here tonight. He was busy doing a pre-Civil War reenactment. On his RSVP he just wrote: 'No!' Just, 'Nooooo!' Which happens to be his second favorite n-word."
Minhaj ended his speech with the most poignant moment of the night by saying, "The President didn't show up because Donald Trump doesn't care about free speech. The man who tweets everything that enters his head refuses to acknowledge the amendment that allows him to do it (…) I'm proud that all of us are here tonight to defend that right, even if the man in the White House never would."