Baby Shark Play-Doh Exists Because We'll Never Escape This Craze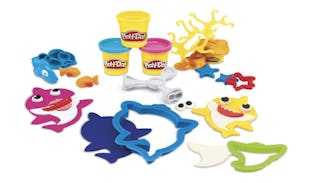 Image via Romper/Hasbro
It comes with baby and adult Play-Doh cutters
Unless you've been living under a rock, you've inevitably heard the "Baby Shark" song, doo-doo-doo-doo-doo-doo. Though the song/nursery rhyme dates back decades, it wasn't until 2016 when it really became popular. To go along with the song, plushies, and new Netflix show, the uber-popular children's craze will now be sold in Play-Doh form. Every parent's dream.
RELATED: This Brand New 'Baby Shark' Sing And Swim Bath Toy Is In High Demand
Just when you thought the "Baby Shark" craze possibly get any bigger, the mega-giant toy manufacturer Hasbro is dipping their toes in the Shark phenomenon. They've been pushing out different Play-Doh varieties like Frozen, My Little Pony, and various Kitchen Creations for decades keeping generations of kids entertained, so this match made in heaven just makes sense, doo-doo-doo-doo-doo-doo. Sorry, I can't help myself.
The tune by South Korean educational band Pinkfong, which has been viewed on YouTube over 2.2 B times (that's billion with a B) has even managed to crack mainstream radio, making their entrance to the Billboard Charts earlier this year. It's no wonder Hasbro (which has brought us gems like Monopoly and Nerf products) decided to get in on the action — and kids everywhere will thank them.
In a press release, the company stated: "This vibrant set lets Baby Shark fans build baby, mommy and daddy shark using the cutters and accessories — even create a mustache for grandpa shark or glasses for grandma shark! To complete their underwater world kids can also make coral, seaweed and colorful sea creatures."
The set will include baby and adult shark cutters, five additional cutters to make fish, coral, and starfish a half fish pack, a fish half mold, a Pinkfong fox stamper, Play-Doh knife, a roller, a seaweed accessory, and 12 cans of compound in all the fun Play-Doh colors we love. And we are most definitely here for it. Because even though Play-Doh can get messy, it keeps our kids hella entertained.
Just popping open a can of Play-Doh brings you back to childhood. Squeezing the squishy colors through the various plastic bits and being able to create whatever your heart desired was part of being a kid. Picking tiny dried bits out of carpet is part of being a parent. It all evens out in the end.
It seems the "Baby Shark" craze isn't remotely slowing down, they even put out a Valentine's Day song this past week in case the original was slowly grating on your nerves. You just know St. Patricks Day and Easter versions are on the horizon.
Unfortunately, parents (and kids) will have to wait just a little bit longer to get in on the fun. Baby Shark Play-Doh will hit the shelves of most popular retailers beginning May 1 and will retail for $14.99, doo-doo-doo-doo-doo-doo.
Okay, that's the last time. Swear.
This article was originally published on