These Parody Versions Of Popular Board Games Are The Game Night Upgrade We Deserve
by Jerriann Sullivan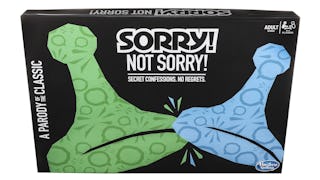 Image via Hasbro
Hasbro releases parody versions of beloved games
Good news, Game Night lovers, Hasbro is releasing parody versions of their most popular games just in time for that chunk of the year where we're stuck inside for months. The new collection of board games are geared for adults and have funny twists on their originals.
You loved the originals as kids, but we bet the fun takes on these classic board games will be just as delightful. Here's a break down of all the new games, which are: Game of Life: Quarter Life Crisis, Botched Operation, Sorry! Not Sorry!, Mystery Date: Catfished, and Clue: What Happened Last Night? Lost in Vegas. We have recaps of each game, so, let's dive into the details.
Game of Life: Quarter Life Crisis
Just like real life, players in Game of Life: Quarter Life Crisis will also have to figure out how to pay off $500,000 in "soul-crushing debt." Whoever pays off their all-consuming debt wins the game. But don't get too confident as the game makers came up with several challenges. "Players will pay the consequences of outrageous (and all too familiar) situations such as finding a photo of Grandpa's toe fungus, dropping your phone in the toilet, or calling in sick to binge-watch TV," Hasbro said. "You might even get a new job… or a botched tattoo!"
Botched Operation
The game operation was the closest most of us got to ever becoming a doctor. Sorry, mom and dad. With the game Botched Operation, you can remind yourself how you were never really medical school material. "Players are the doctor and will use the tweezers to remove silly ailments from Cavity Sam – but this time, they'll have to do it while performing the stunt shown on the challenge card," Hasbro explained. Challenges could include removing body parts without using your thumbs or while another player tickles you. Grab the most body parts without setting off the buzzer and before the timer runs out and you win.
Sorry! Not Sorry!
This new Sorry game promises to expose your friends' secret confessions while forcing players to embrace the motto: no regrets. "Players will move their pawn around the game board as they aim to be the first player to get three pawns on the home space," Hasbro shared. "But there's a catch! In this race around the board, players can sabotage their friends, steal their pawns, and use the Not Sorry! cards to expose their wildest 'have you ever' secrets." Sounds like a game that would pair nicely with several glasses of your fave adult beverage.
Mystery Date: Catfished
Catfish used to be a fish. Then it also became a way for people to trick strangers via the internet. And now it's sure to be your next favorite game thanks to Mystery Date: Catfished. "By picking, swapping, and collecting the hilarious trait and action cards, players will wade through a sea of weirdos as they search for love in the dubious world of online dating," Hasbro said. "When it's time to open the door on the game board, players will be introduced to the companion and dating scenario of their dreams." Of course, just like in our daily dating lives, that dreamboat could just be catfishing you.
Clue: What Happened Last Night? Lost in Vegas.
In this special edition of Clue, seven friends head to Vegas for a weekend of debauchery only to wake up and realize they've lost their friend. "Buddy is missing – and it's up to the players to figure out who was the last person to see him, where they left him, and what they were doing," Hasbro explained. "Eliminate the suspects and discover the who, where, and what to solve the mystery." Whoever finds Buddy before the time runs out, wins the game.
You'll be able to snag these unique games for $20 each at Target and on Target.com starting Oct. 1.
This article was originally published on