Hasbro Plans To Eliminate Plastic Packaging For Kids' Toys and Games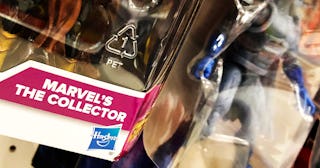 Justin Sullivan/Getty
The toy company is phasing out the use of plastic in its toy and game boxes by 2022
In awesome news for parents and the environment, the plastic packaging found in toys and games made by Hasbro will soon be a thing of the past. That's right — picture it, a much more frustration-free Christmas morning will soon be a reality. The company says it plans to phase out the plastic packaging by 2022.
The plastic packaging in question includes elements like polybags, elastic bands, shrink wrap, window sheets, and blister packs. All those tiny little plastic bags and stiff packages that encase your child's favorite Nerf, My Little Pony, Transformers, Play-Doh, Baby Alive, Power Rangers and board games will no longer exist soon enough.
The company is going to start phasing out all of those pieces wrapped in plastic, such as polybags, elastic bands, shrink wrap, window sheets, and blister packs, starting in 2020.
"Removing plastic from our packaging is the latest advancement in our more than decade-long journey to create a more sustainable future for our business and our world," says Brian Goldner, Chairman and CEO of Hasbro in a press release. "We have an experienced, cross-functional team in place to manage the complexity of this undertaking and will look to actively engage employees, customers, and partners as we continue to innovate and drive progress as a leader in sustainability."
Though the full elimination of plastic use may not take full effect for a couple of years, you can still do your part in being environmentally friendly. You can send your kiddo's used and discarded toys to be recycled through Hasbro's TerraCycle program. TerraCycle will take the toys and recycle them into materials to be used in the construction of play spaces, flowerpots, park benches, and more.
"Reimagining and redesigning packaging across our brand portfolio is a complex undertaking, but we believe it's important and our teams are up for the challenge," says John Frascotti, President and Chief Operating Officer, Hasbro.
As a mom to an almost-four-year-old little girl, our house is filled with All Things Hasbro. It's awesome to see such a huge company crack down on plastic waste and offer parents options for their kids' used toys (because let's be honest, it's rare any fellow parent is paying $5 for a handful of old action figures no matter how many times they're advertised on social media). I'd much rather know my kiddo's old toys are going to construct useful projects and public spaces.
"We know consumers share our commitment to protecting the environment, and we want families to feel good knowing that our packaging will be virtually plastic-free, and our products can be easily recycled through our Toy Recycling Program with TerraCycle."
This article was originally published on