Now Hatchimals Are Talking Dirty And Parents Are Losing Their Minds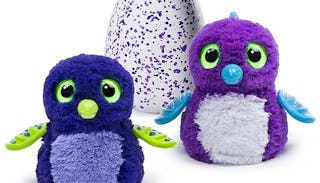 Image via Hatchimals
Dirty-talking Hatchimals are the gifts that keep on giving
Hatchimals, the trendiest toys of the holiday season, are once again coming on some bad press.
In the days after Christmas parents flocked to Spin Master's Facebook page to let the company know their adorable little toys weren't hatching. Now we're learning that when the little fuzzball falls asleep, it makes some interesting requests. Dozens of parents are claiming that the toy mutters "Fuck me" in its sleep.
You really can't make this stuff up.
"Hatchimals communicate by speaking their own unique language, which is made of up of random sounds, and by making other noises, including shivering when they're cold and snoring while they sleep," a spokeswoman for Spin Master told CNNMoney in a statement. "We can assure consumers that Hatchimals do not curse, nor do they use foul language." Your penguala or whatever-the-hell is speaking a made up language, parents. And if it does mutter actual words, it's because it just may be mimicking whatever is around it.
Basically, if you hear that glowing-eyed, creepy burtle murmuring "fuck me" in its sleep, it might just be your fault.
It turns out that Hatchimals have several different "stages" of being. There's the baby stage, the toddler stage, and the kid stage. In the toddler stage, your kid can squeeze its belly until its eyes turn teal, say something, and the Hatchimal will repeat it. Something tells us there were a lot of frustrated parents muttering "fuck me" when they were trying to get this thing to hatch. I mean, it's a theory. The only other theory is that you just bought an overpriced, malfunctioning, horny gremlin.
And that's terrifying.
This article was originally published on