Broad City's Ilana Glazer Cancels Event After Anti-Semitic Graffiti Found In Synagogue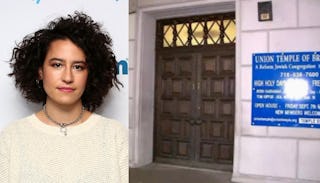 Image via Astrid Stawiarz/Contributor/Getty Images/ABC News 7
Hateful vandalism was scrawled inside a Brooklyn synagogue
On Thursday, hateful, violent vandalism was found inside a Brooklyn synagogue. The words "Hitler" and "Kill all Jews" were scrawled in black marker on multiple floors throughout the building, along with other disgusting anti-Semitic slurs. A political event that was scheduled for last night ended up being canceled because of safety concerns in the wake of the horrifying incident.
Broad City star Ilana Glazer was scheduled to host a "Get Out the Vote" event at Union Temple this week.
Kathryn T. Gonzalez, one of the evening's attendees, took to Facebook to share the awful, scary reason that the evening was cut short.
"Doors were to open at 7:30pm, but soon half an hour passed. Then, forty-five minutes. Four or five police officers roamed the area, and finally Ilana came out to address the crowd," Gonzalez wrote. "She shared that the Brooklyn synagogue, where the event was scheduled to take place, was vandalized with anti-Semitic slurs and other hateful words two hours before the talks were to begin. As such, she didn't feel comfortable ushering 200 people into the enclosed space."
State senate candidate Andrew Gounardes, who was scheduled to appear alongside Glazer during the event, spoke out about the repulsive vandalism – and emphasized that this incident serves as yet another wake-up call about the state of our country.
"Tonight's attack, right here in a temple in Brooklyn – is a painful reminder that anti-semitism and prejudice are alive and well in our own community," Gounardes said, per AMNew York. "I commend the NYPD for their quick response and believe whoever committed this hate crime should be prosecuted to the fullest extent of the law."
Hateful, discriminatory vandalism has become increasingly frequent in New York City. On Tuesday, swastikas and the N-word were chalked up and down a street in the Brooklyn Heights area. According to the Anti-Defamation League, anti-Semitic incidents have risen a staggering 90% in NYC since 2017.
This news comes just a few days after a gunmen entered Tree of Life, a Pittsburgh synagogue, and murdered 11 congregants. The shooter yelled "all Jews must die" before opening fire. It was one of the deadliest attacks on the Jewish community in United States history.
In the midst of this gut-wrenching tragedy, Marlene Haus, an 80-year-old congregant of Tree of Life, offered a message of hope. "The Jewish people have survived for more than 5,000 years," she told CBC. "We'll survive this, too."
This article was originally published on