Genius New Dating App Matches People Based On What They Hate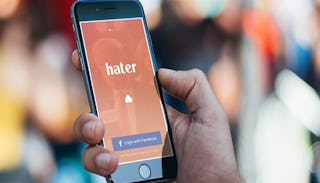 Image via Hater
Hater is a new app that will help you find love based on your mutual dislike for things
When you meet someone new, it's easy to think they're the one based on the fact that you like the same things. But those of us who are in long term relationships know having mutual interests is only half the battle. To find true everlasting love, you have to hate the same stuff, too. Luckily, now there's an app for that.
Hater is a brilliant new dating app that matches people based on the things they hate. The beta version of the app is currently available for free. Since I was home sick this weekend and I couldn't care less about football, I downloaded it (strictly to play around with the swipe features, not to search for some side action).
The app is super easy to use. A topic appears on the screen. If you love the topic, swipe up. If you hate it, swipe down. If you dislike it, swipe left. If you like it, swipe right. If you're neutral on a topic (guys who wear necklaces, for example) you can tap the right side of the screen to skip the question altogether. After you give your answer the app will show you the breakdown of how other users responded to the same question so you can see how you stack up. Sorry Tinder, this seems way more fun than swiping through photos of people.
The topics are all over the place. There's sex questions like "anal", "69" and "missionary position." There's serious questions like "activism", "Americans" and "abortion." And there's lots of random questions like "Alanis Morissette","slow walkers" and "#nofilter." It's fun. Turns out I really do hate air conditioners that turn off by themselves. Hater forces you to be really honest with yourself about topics you never really gave much thought to before. Sometimes those little things can make or break a relationship.
Once you've answered a bunch of questions you can build a profile that shows the true essence of your hater style. It will let you list your top Hates, Loves, Likes and Dislikes for potential matches to see. If only they would launch this app for moms seeking other mom friends. Instead of all that awkward chit-chat at drop off with just a few swipes you could find someone to hang out with who loves leggings and 90s hip-hop but hates people who undertip, just like you.
Brendan Alper, the founder and CEO of Hater, told The Huffington Post that he wants his app to bring some fun back into the world of online dating. "Online dating has become so monotonous," he said. "Everyone just goes through the motions. Swipe. Swipe. Swipe. Match. Canned line. Bad date. Repeat. We want online dating to be fun again. Just like in real life."
Time will tell if Hater will be the app that helps people find true love based on their mutual hatred of things. But I got my husband to try it with me for fun and we ended up being a match for each other. We've been rolling our eyes over the same stuff together for almost a decade, so it looks like this app is on the right track.
This article was originally published on