'The Haunting Of Hill House' Season Two Is Officially Happening
by Julie Scagell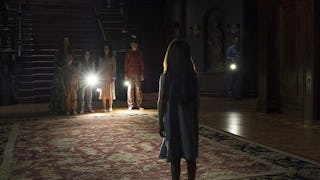 Image via IMDB
The new series will focus on a brand new family and house
Grab a blanket, your favorite stuffie, a knife, and another human being because The Haunting Of Hill House Season 2 is officially happening and we are freaking out (in both the happy and terrifying sense of the word).
This week, Netflix announced a deal with Hill House the creators and producers of the series to release an "all-new chapter in The Haunting anthology," according to Variety. Instead of being a standard season 2, however, this latest installment will be called "The Haunting of Bly Manor," the second in what they are calling "The Haunting" anthology.
According to Deadline, the new series will still have Mike Flanagan and Trevor Macy directing, but will focus on a different family entirely and won't even take place in the same house (i.e. the Bly Manor part). It will be based on Henry James's gothic novella The Turn of the Screw. Regardless of which house they select, we all know the haunting part is here to stay.
"Mike Flanagan and Trevor Macy are masterful at creating authentically frightening stories that leave audiences on the edge of their seats but unable to look away," said Cindy Holland, VP, Original Content at Netflix. "We're excited to continue our partnership with them on The Haunting series and future projects to come."
If you've not seen the Netflix hit, the series follows The Crain family siblings who, as children, grew up in the world's most famous haunted house (shivers). Fast forward many years and the fractured family comes back together to face their past, ghosts and all are forced back together in the face of tragedy and must finally confront the ghosts of their past.
People are understandably waiting on pins and needles:
https://twitter.com/jetpack/status/1098640048789049344https://twitter.com/jetpack/status/1098641160862605312
https://twitter.com/jetpack/status/1098656829616340992
If you love all things horror, thriller, and supernatural prepare yourself because Netflix has also entered into a multi-year deal with Flanagan and Macy to create new projects exclusively for them under their banner Intrepid Pictures, and you just know they will be as unforgettable as Haunting.
The first series starred Michiel Huisman, Carla Gugino, Henry Thomas, Elizabeth Reaser, Oliver Jackson-Cohen, Kate Siegel, Victoria Pedretti, Lulu Wilson, Mckenna Grace, Paxton Singleton, Julian Hilliard, Violet McGraw, and Timothy Hutton. While some of the cast is sure to change, we are crossing fingers at these some of these folks will star in the next one.
Then again, hasn't the Crain family been through enough? Flanagan seems to think so. "I don't really see a need to revisit those characters, even in cameos," he said last fall. "I want to remember them the way we left them, and leave them to their lives."
"Netflix has been an important part of our story, and we're proud to have worked with them on 'The Haunting of Hill House,' not to mention 'Gerald's Game,' 'Hush,' and 'Before I Wake,'" said creators Flanagan and Macy. "They've enabled and supported a great deal of our work and we look forward to much more."
Don't mind us, we'll just be biting our nails in anticipation for season two.