Kylie Jenner Shares Pics From Her Playboy Shoot And Talks Sex After Baby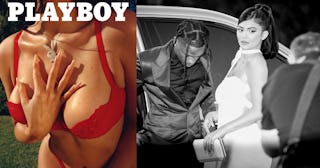 Playboy/ Rich Fury/ Getty
"You can be sexy and still be a badass mom," says Kylie Jenner
While most of us are struggling to even find sexy time with our significant others during those first few years after welcoming a child, apparently one celebrity couple's sex life has improved drastically since becoming parents. In a new interview, Kylie Jenner and Travis Scott claim that things are steamier than ever now that they have a child in their lives.
"A lot of people claim that having a baby can hurt your sex life but I feel like that's the opposite of our experience," Travis revealed in Playboy Magazine's Fall 2019 Pleasure Issue. "Yeah, I feel like we've definitely proven that rumor to be wrong," Kylie aded.
https://www.instagram.com/p/B2O7f2wnzwe/
So just how does this work, you might be thinking? Better sex after squeezing babies out of your vagina (or having them cut from your abdomen), spending almost every single minute of the day tending to them — including that time when you are supposed to be sleeping — and being forced to go days without a shower? Is it lots of hired help or a bunch of family members whose names all start with K living around the corner and picking up some of the responsibilities? Or maybe having time to work out post pregnancy? Nah. According to the 22-year-old billionaire, it all simply boils down to the fact that sexuality and motherhood should go hand-in-hand.
"You remind me that motherhood and sexuality can coexist and just because you embrace your sexuality doesn't mean you have loose morals or you're not a good mother," she told Scott, who moderated the interview.
She then dropped her best morsel of wisdom, which in all seriousness, is so important for every single one of us to hear: "You can be sexy and still be a badass mom."
Other than their enviable sex life, the couple, who pose nude in the issue, apparently have a lot in common."We think the same and we have the same goals and passions in life," Kylie continued. "Besides the fact that we have good chemistry, we have a lot of fun together. You're my best friend," she tells him. "Through all the ups and downs that every relationship has, we evolve together through them and keep getting stronger."
Kylie and Travis started dating in April 2017, conceiving their first child, Stormi, almost immediately. While the couple kept the pregnancy under wraps until after they welcomed their daughter in 2018, they regularly share photos and videos of her on social media. She even brought Stormi with her for a recent appearance on the Ellen Show.
Apparently, despite the fact that they are jet-setting celebrities, their family time is quite normal. Well, normal when you are rich and have a swimming pool and home theater room. "When we have our days off, we play with Stormi all day, and the three of us have a lot of fun together," Kylie shared in the interview. "We do a lot of swimming; Stormi loves swimming, so we're always in the pool or playing in her room or taking her out to lunch with us. After she falls asleep, we watch a lot of TV and we get lost in the theater room and just watch a whole lot of shows and movies. We usually fight over what TV show we're going to watch. We have a lot of fun together. We're always laughing or getting into deep talks."
This article was originally published on