A Hawaii Lawmaker Wants To Ban Smoking For Anyone Under 100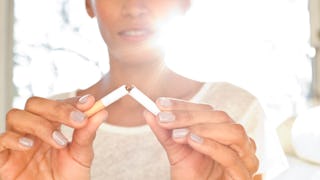 Image via Science Photo Library / Getty Images
If this works, smoking will be effectively banned in Hawaii
Hawaii was the first state in the nation to raise the legal age to buy cigarettes to 21. Now, one of the state's lawmakers wants to build on that law, gradually increasing the legal age until smoking is effectively banned in Hawaii.
State House member Rep. Richard Creagan is a medical doctor who just proposed legislation that would gradually raise the legal age to buy cigarettes in Hawaii — to 30 in 2020, 40 in 2021, 50 in 2022, 50 in 2023 and 100 in 2024. Once no one under 100 years old can buy cigarettes, smoking will effectively be banned in Hawaii, without technically being banned. It's kind of genius.
"We, as legislators, have a duty to do things to save people's lives," Creagan told the Hawaii Tribune-Herald. "If we don't ban cigarettes, we are killing people."
It should be noted that the proposed law would only raise the legal age for cigarettes, and it wouldn't affect sales of e-cigarettes, smokeless tobacco or cigars.
The proposed law has an uphill battle to fight. But the Hawaii House Health Committee is expected to hear the bill and debate it this week, and if it passes committee, who knows what could happen. A law like this has been unfathomable in the past, but with smoking rates on a continuous decline, some experts say the time may be coming for full smoking bans.
According to the Centers for Disease Control and Prevention, rates of adult smokers fell more than 5 percent between 2005 and 2016, when only 15.5 percent of American adults reported that they smoke cigarettes.
"Because smoking rates are getting so low, we can actually start thinking about what I call end-game strategy, meaning we're at the point where we can feasibly just make smoking history," Michael Siegel, a professor at Boston University's School of Public Health, told USA Today. "We couldn't even talk about it when there was a large percentage of people smoking because there were too many people affected."
Siegel did say he doesn't think Hawaii will actually be able to ban sales of cigarettes to people under 100 within five years. He said the bill is likely to face serious opposition from the tobacco industry, and if anything, a watered down version may pass that puts further restrictions on cigarette purchases without effectively banning them.
Still, he's optimistic that we may actually see a day in the future when cigarettes are banned. E-cigarettes, while still dangerous and addictive, don't contain nearly as many chemicals as cigarettes do, and their rise in use is definitely affecting tobacco consumption. And public health education campaigns have done their job — according to the CDC's data, youth smoking is at an all-time low.
Those trends have Creagan optimistic, as well. He's passionate about making cigarettes less accessible, because he knows it'll save lives.
"We essentially have a group who are heavily addicted — in my view, enslaved by a ridiculously bad industry — which has enslaved them by designing a cigarette that is highly addictive, knowing that it highly lethal. And it is," he said. "We don't allow people free access to opioids, for instance, or any prescription drugs. This is more lethal, more dangerous than any prescription drug, and it is more addicting. In my view, you are taking people who are enslaved from a horrific addiction, and freeing people from horrific enslavement."
If Hawaii is able to make strides with this, it's likely that other states will follow suit. After Hawaii raised the legal smoking age to 21 in 2016, California, New Jersey, Massachusetts, Oregon and Maine all did the same. Anything that keeps a deadly, addictive and, frankly, gross, habit out of the hands of new users is a good thing, and we'll be watching to see how this goes in Hawaii.