Hayden Panettiere Reminds Women Struggling With PPD 'It's Okay To Ask For Help'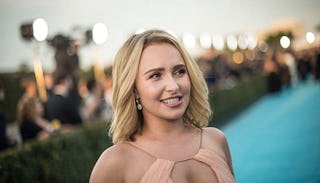 SANTA MONICA, CA - JANUARY 17: (Editors Note: This image has been processed using digital filters) Actress Hayden Panettiere attends the 21st Annual Critics' Choice Awards at Barker Hangar on January 17, 2016 in Santa Monica, California. (Photo by Jason Kempin/Getty Images for The Critics' Choice Awards)
Hayden Panettiere continues to speak about her struggle with PPD
Since recovering from her own experience with postpartum depression, Hayden Panettiere has been very vocal about her struggles. She has really done her best to take the shame out of seeking help for PPD. Her transparency about such a deeply personal struggle is nothing short of amazing. You cannot downplay the importance of sharing stories and reaching women who are in that dark place.
She's talking about it again, in a recent People magazine interview. She's again helping women to understand that reaching out for help is nothing to be ashamed of.
"The biggest message that I've been trying to promote for women is that it's okay to ask for help," the Nashville star, 26, told People. "You feel mommy guilt — it's for real."
"It's like being in a tunnel," she said. "You can't even remember when you felt good. You try and think back to when you felt good, when you felt positive, when you felt happy, and you can't. All you see is this enveloping darkness."
Panettiere gave birth to her daughter Kaya in December 2014. She checked into a treatment facility for PPD in October 2015. She's since been sharing her experience, speaking frankly about an issue that effects so many women. PPD affects as many as one in eight moms.
"I've just been trying to be much more open and honest about who I am," the actress told People. "I'm 26 years old, I'm an adult, and [I don't] have to falsify who I am."
Women need to know that they are not alone — especially during such a dark time. Someone with a platform like Panettiere has the ability to reach so many women who may be struggling to even understand what is going on or what they are feeling after they give birth. The fact that she's been so open about what exactly she's feeling can be eye-opening to some women. If she inspires even a single person to seek help — it's worth it.
She will be returning to the cast of Nashville this season. According to TVLine, her scheduled return is April 6, and the episode with feature a storyline about her character Juliette returning from her own treatment for PPD.
Panettiere reminds us we don't have to hide. Struggling with PPD is nothing to be ashamed of.