Hayden Panettiere Reminds Us That Postpartum Depression Doesn't Look The Same For Everyone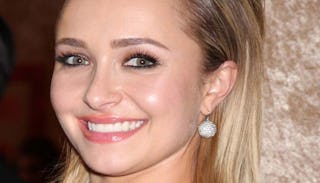 Postpartum depression (PPD) doesn't look the same for every mom, as Hayden Panettiere explains in a recent appearance on Live with Kelly and Michael. In sharing her own story, she opens an important discussion about how PPD can affect every woman differently.
Hayden spoke candidly of her struggle following the birth of daughter Kaya saying, "It's something a lot of women experience. When (you're told) about postpartum depression you think it's 'I feel negative feelings towards my child, I want to injure or hurt my child' — I've never, ever had those feelings. Some women do. But you don't realize how broad of a spectrum you can really experience that on. It's something that needs to be talked about. Women need to know that they're not alone, and that it does heal."
It's true that there are many misconceptions about PPD and one of them is that it's blatantly obvious when a woman is suffering from it. The fact is, it can be pretty quiet for some. When my daughter was eight months old, I finally sought help for my PPD, which manifested mainly as anxiety and sleeplessness. It never occurred to me that I had it until I was diagnosed, since it didn't present the way I thought it would. Therapy sessions helped me understand that PPD could also mean the kinds of symptoms I was experiencing. That was eight years ago and even now, mental health in new mothers is discussed in a way it wasn't then. That's due in large part to moms like Hayden breaking their silence and sharing how PPD looked for them. If women know more about the wide range of symptoms, they can seek help sooner instead of letting things get worse.
Hayden also touched on how common it is for people to minimize PPD saying, "There's a lot of misunderstanding — there's a lot of people out there that think that it's not real, that it's not true, that it's something that's made up in their minds, that 'Oh, it's hormones.' They brush it off. It's something that's completely uncontrollable. It's really painful and it's really scary and women need a lot of support."
That statement likely strikes a chord with many moms who have had partners, family or friends minimize their concerns over possible PPD symptoms. Even the most supportive person may not take a new mother seriously when she wonders whether she's depressed because there is lots of wrong information out there. It's not only new moms who need to be aware of the ways PPD can affect them, it's everyone in their lives. Hayden being so open in her experience can only further that cause.
This article was originally published on