Hayden Panettiere Takes The Shame Out Of Seeking Help For Postpartum Depression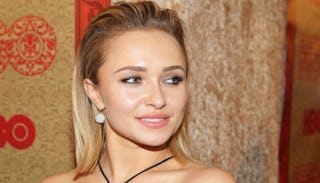 Hayden Panettiere is best known for her role on the hit show Nashville, but right now she's in the spotlight for a much more important reason. Panettiere gave birth to her first child, Kaya, in December of last year. Since then, she's been vocal about her struggles with depression and her difficult adjustment to new motherhood. In a statement released yesterday, the actress took transparency to a new level and revealed that she's checking into a treatment facility for professional help in battling postpartum depression.
The announcement comes on the heels of some bold comments Panettiere made last month about the way postpartum depression affects each woman differently and how that's rarely represented in the media. During an appearance on Live! With Kelly and Michael, the actress revealed her own struggles, saying, "You don't realize how broad of a spectrum you can really experience that [depression] on. It's something that needs to be talked about. Women need to know that they're not alone, and that it does heal."
Panettiere may not realize it, but her openness about seeking treatment is a source of hope and validation for thousands of women. According to a Baby Center survey of 1,400 new moms, almost 40 percent of those diagnosed with Postpartum Depression never seek treatment. The reasons vary, but the vast majority of those women say it's because they don't want the stigma of being labeled "mentally ill" or because they think they're "strong enough" to deal with it on their own and don't want to seem weak.
I remember very vividly the day I finally asked for help with my own depression. Despite my supportive family and many other women in my life who admired my "bravery," I felt deeply ashamed. My husband had to take time off work and my mother had to help care for my daughter. I felt like everyone thought I was weak and "crazy," even as they told me I was strong and doing the right thing. Depression felt less like a real medical condition and more like a personal flaw I was too broken to overcome.
Four years later, I know those feelings of isolation and humiliation to be one of the many, many lies depression tells you. I didn't understand that then, and I didn't have public figures like Hayden Panettiere saying, hey — I've been there too and you're totally normal. In going public, Panettiere has potentially given thousands of moms the "me too" moment that will make them seek help, confide in a friend, or even just be able to look in the mirror without the weight of their depression being the first thing they see.
You can never, ever underestimate how much it helps a person struggling with depression to hear that someone else is going through it too. Hayden Panettiere's decision to seek treatment is not just a show of personal strength, but also a huge step towards changing the stigma that keeps too many women suffering in silence. That, more than any other starring role, makes her a true role model.
This article was originally published on