HBO Fixes Their Gender Pay Gaps Because Of The #TimesUp Movement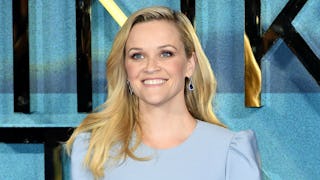 Image via Karwai Tang/WireImage
Every woman on HBO's shows has Reese Witherspoon to thank for fair pay
Happy Equal Pay Day! On average, women still earn only around 71 cents for every dollar earned by a man doing the same job. The disparity is even greater for women of color. Frankly, it's bullshit, because we've known the wage gap exists for literal decades, yet it still persists. But hey, ladies, we have today, Equal Pay Day, in our honor, because that should make up for the average of $16,000 we miss out on annually because our work isn't as valuable as men's, right?
It's easy to feel like this is a little bit of an empty holiday, but thankfully, there are some meaningful changes being made to combat the pay disparity women face. At HBO, network execs were inspired by Big Little Lies star Reese Witherspoon's involvement in the Time's Up movement to examine all of their shows and correct any wage gaps that existed. That's a pretty amazing move, so can other corporations start following suit, please?
"One of the things that's come out of thinking about the movement and some conversations with Reese, who's really at the forefront, is something we've done recently," HBO's president of programming, Casey Bloys, told The Hollywood Reporter. "We've proactively gone through all of our shows — in fact, we just finished our process where we went through and made sure that there were no inappropriate disparities in pay; and where there were, if we found any, we corrected it going forward."
Praise the queen, Reese Witherspoon. Honestly, she's too good for this world. She's an outspoken leader of the Time's Up movement, which established a legal fund for women who face sexual harassment in the entertainment industry, and she brought Big Little Lies to HBO. That show cemented a fact women already knew but the industry was struggling to acknowledge: that female-driven shows with strong casts of women can be just as successful as shows with leading men. And Witherspoon's involvement in that show and in Time's Up lead to this — a huge moment for women in entertainment who have been fighting for fair treatment and now will receive equal pay on HBO shows. Now for other networks to step up and do the same.
What Bloys wouldn't tell reporters is which of HBO's shows required salary adjustments, or how many. But progress is progress, even though this unfortunately doesn't necessarily mean male and female stars of HBO shows will receive exactly the same pay.
"When you're putting a show together, people come in with different levels of experience and maybe some people have won awards or something that makes them stand out," Bloys explained. "But when you get into season two or three of a show and the show is a success, it is much harder to justify paying people wildly disparate numbers."
That really sets HBO apart from Netflix, which recently faced a scandal when it was revealed that Claire Foy, the star of The Crown, was paid less than Matt Smith, who played a less central character.
So, Netflix, we're looking at you. If HBO can pull this off, so can other networks.
This article was originally published on