HBO Max Drops Trailer For Bonkers COVID Heist Rom-Com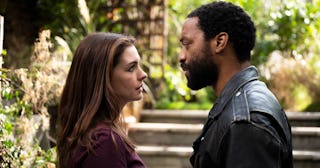 HBO Max
Anne Hathaway and Chiwetel Ejiofor star in a pandemic thriller slash rom-com that people are actually excited to see
Since the start of the pandemic, Hollywood has been looking for ways to capitalize on our early quarantine days and over the summer, too many shows about being on lock down hit the airwaves. There was Social Distance on Netflix and Love in the Time of Corona on Freeform and to be honest, it was all a little too soon as nobody wanted to watch a TV show filmed via Zoom screens after completing an actual day of Zoom work and Zoom classroom. But then HBO Max dropped a trailer for Locked Down starring Anne Hathaway and Chiwetel Ejiofor and it's part Zoom entertainment part normal heist movie and the internet is leaning in and saying, "tell me more?"
Locked Down is being billed as a "rom-com heist movie", and it's about a couple on the verge of breaking up who attempt a high-risk, high-stakes jewelry heist at a department store.
"Just as they decide to separate, Linda (Anne Hathaway) and Paxton (Chiwetel Ejiofor) find life has other plans when they are stuck at home in a mandatory lockdown. Co-habitation is proving to be a challenge, but fueled by poetry and copious amounts of wine, it will bring them closer together in the most surprising way," reads HBO Max's official synopsis. The "surprising way" being that they work together to steal $3 million worth of diamonds from Harrods department store in London.
The first half of the trailer makes it seem like a sad-com about a couple trying to leave each other during the pandemic and then suddenly, it's a heist film. Or as one Twitter user said, "Woah. This trailer looks like two different films." And LOL.
Overall though, the reaction online is one of total curiosity, despite the fact that we're all pretty over "pandemic content."
The movie was shot in only 18 days in September in London during the COVID-19 pandemic and Hathaway says her character is inspired by the sort of life-changing realizations many had during the early days of the quarantine.
"[my character in the film] has been carrying around so much tension for so long," Hathaway told People. "This film is partially about how the chaos of lockdown allows her to release that tension, let go of whatever BS was getting her through the day and how she gets all the way honest about what authenticity and freedom mean to her. She is messy and a little nuts and I liked that."
Locked Down lands on HBO Max on January 14, 2020.
This article was originally published on